Rotary granulator is a machine which can granulate materials into specific shapes. It is suitable for large scale production of cold, hot granulation and high and low concentration complex fertiliser. What's more, it is one of key facilities to make compound fertiliser. You can equip with other machines to form a complete compound fertilizers production line. Our company provides you complete supporting facilities including batching machines, screeners, blender and so on.
The rotary wet granulator can produce not only compound fertilizers, but also organic fertilizer as the disc pan granulator machines. Meanwhile, it also uses wet granulation method. If you want to make fertilizer with dry granulation method, we can provide you double roller press granulator for dry granulation. And we also have new organic fertilizer granulator for making pure organic fertilizers if you need.
rotary granulator for sale
Model: SXZGZ-1240(can be customized)
Power(Kw): 5.5
Diameter(mm): 1200
Length(mm): 4000
Installation Angle: 2-5°
Capacity(t/h): 1-3
Why choose rotary granulator?
Rotary drum granulator overcomes the defects of disc pelletizer including the low production, low strength of finished granules and so on. Moreover, when you are making compound fertilizer by disc pan granulator, it's difficult for you to add some steam in. Rotary granulator machine realizes this production technology.
Comparing with pan granulator, drum pelletizer is more suitable for large scale production. Its output can reach 30 ton per hour. This can bring more economic efficiency to your fertilizer plant. Meanwhile, it doesn't need too much labor force to operate it. If you want to get high output, high economic benefits and low labor force consumption, why not have a try on drum granulator?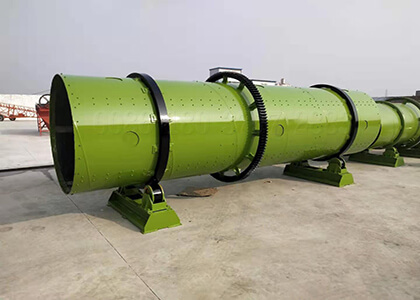 30 ton per hour drum pelletizer for sale
Model: SXZGZ-1240(can be customized)
Power(Kw): 5.5
Diameter(mm): 1200
Length(mm): 4000
Installation Angle: 2-5°
Capacity(t/h): 1-3
How does the rotary granulator work?
This rotating pelletizer granulates pellets by centrifugal force. It rotates the cylinder. Then the powders will get together and become pellets. Do you know how each components work together? And how can you do for better granulating?
How does each granulator components work together?
The belt and pulley are driven by the main motor. Then the materials will get into the drive shaft through the reducer. The open gear which is installed on the drive shaft works together with the large gear ring. The gear ring is fixed on the body. With the special structure inside the cylinder, the raw materials can be particles and out through the outlet.
What granulate methods does the machine employ?
Rotary wet granulator adopts the wet granulation method. With a certain amount of water or steam, there will be chemical reactions in the cylinder. The rotating of cylinder will make the materials squeeze. And then materials will become pellets under a certain liquid condition.
How can the granulator perform better?
With vapour, gas ammonia, or phosphoric acid or nitrogen solution, phosphorous ammonia slurry, heavy calcium slurry, the materials can be with uniformity and humidity in the rotary drum. Thereupon, there will be chemical reactions and heating reactions in the tube. Finally, the finished fertilizer pellets can be 3mm~4mm.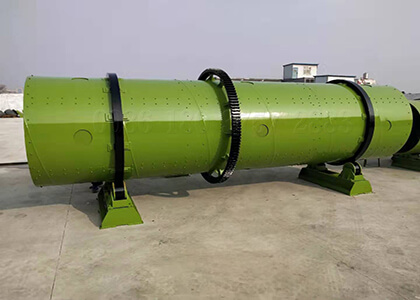 Drum type fertilizer granulating equipment
Model: SXZGZ-3210(can be customized)
Power(Kw): 37
Diameter(mm): 3200
Length(mm): 10000
Installation Angle: 2-5°
Capacity(t/h): 15-30
What is the fertilizer drum granulation production process?
Utilizing the drum rotating equipment for granulating, do you know the granulation process? Here we can show you the detailed granulation process for making fertilizer granules when you use drum granulator as granulation machine.
Before the granulation, you should make sure your materials are powdery. It is necessary for you to use powdery fertilizer as materials for drum granulation. If your materials are not fine for granulating, you had better apply a fertilizer crusher for making fine powdery fertilizer materials.
When you feed fertilizer powders into the granulation equipment, the cylinder will be rotating and rotate the powders to granules. The pelleted fertilizers will be out when it becomes granules. Meanwhile, if you need, it is also applicable for you to add some vapour for pelletizing better.
After the granulation, you should dry the granulated fertilizers to make it more convenient for transporting and storing. There are drying and cooling machine for you to process them more efficiently.
Besides, Shunxin also provides you some other auxiliary machine for you. It is alternative for you to configure different machines according to your own requirements. Moreover, it is available to customize for you. And we can also design for you.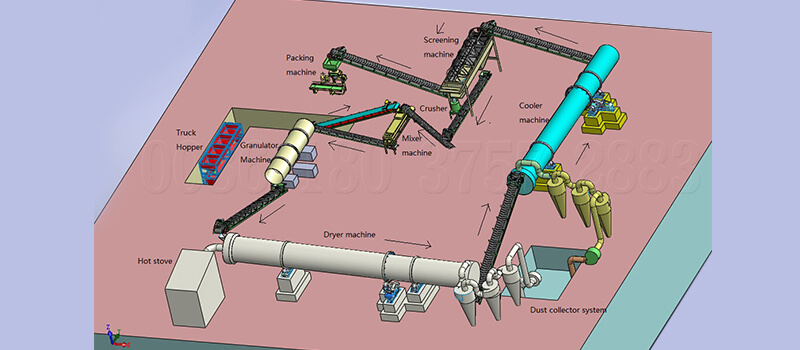 Complete set 20 ton per hour organic fertilizer production line configured with SXZGZ-1240 rotating drum granulation machine
In this fertilizer production, we recommend our customer this drum fertilizer pelletizer according to the requirements of our customer. This rotating granulation facility yeild is about 20 ton per hour. It is helpful for your large scale fertilizer production plant. Especially, it is suitable for your both organic and compound fertilizer production. This machine utilizes wet granulation technology for pelletizing. Whether your powdery materials are organic or compound fertilizers, it can turn them into fertilizer granules well. Meanwhile, equipping with some other equipment, such as drying machine, cooling machine, screener, etc. , the finished fertilizer pellets you get will be better. Moreover, for your commercial large scale ferilizer granules making business, you can also use a packing machine for bagging efficiently.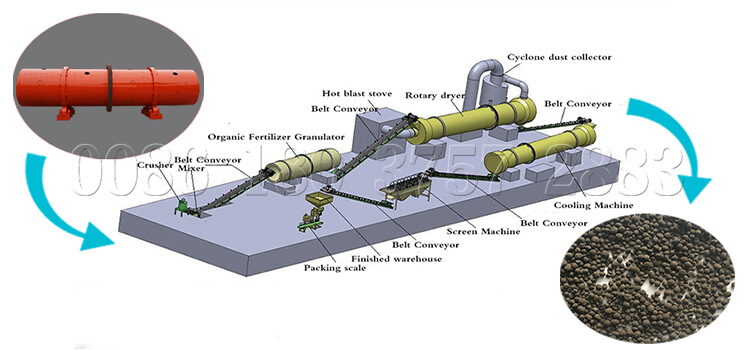 How do we make rotary granulator design more delicate?
For making the fertiliser rotating pelletizer runs steadily and durable, we employ high quality materials on this machine. What's more, there are delicate rotary drum granulator designs for you to transport conveniently.
High quality materials on cradle part and drive part make machine stable
We employ medium carbon steel plate and U-steel to strengthen the cradle, because it supports the rotating of the whole cylinder body. In consideration of the friction between riding wheel and belt, we use antirot and abrasive materials to prolong its service life.
The driver adopts high quality U-steel to make sure the machine work stable. What's more, the U-steel has reached the national standard.
High tech wear-resistant materials on gearwheel prolong machines service life
The large gearwheel is installed on the cylinder body and works with the small gearwheel. They all adopt high tech antiwear materials, which prolong the service life of drum type rotary granulator.
Special materials on cylinder liner make cylinder body work better
The liner is made of rubber, which makes the materials not easy to stick. And it also have functions on antirot and insulation.
The cylinder employs special rubber liner and acid-resistant stainless steel liner, which realizes the automatic smashing, the removing of tumor. Furthermore, it eliminates the traditional scraper device.
Besides, to transport conveniently, there are 4 hooks on the carrier roller mounting bracket. This rotary granulator design also provides convenience for loading and unloading.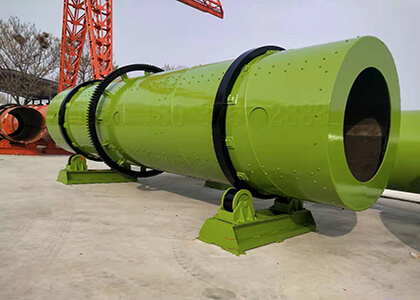 Dedicatly designed rotary granulator for sale
Model: SXZGZ-3210(can be customized)
Power(Kw): 37
Diameter(mm): 3200
Length(mm): 10000
Installation Angle: 2-5°
Capacity(t/h): 15-30
5 irresistible reasons for you to choose rotary drum granulator machine
Because of the high quality liner, the rotating granulator has long service life.
Its granulation rate can reach 70%. Moreover, the small pellets are less. Even if there are unqualified pellets, you can granulate them again.
By improving the materials temperature with the vapour, the pellets will have low moisture contents. At the same time, it improves the drying efficiency.
You can make different fertilizers by this machine, including high nitrogen compound fertilizer whose nitrogen content is above 20%, special fertilizers, organic-inorganic fertiliser and so on.
It can be widely used with varieties of raw materials. You can mix low solubility materials with high solubility according to the formula. Moreover, it is applicable to add some organic matter and microelement.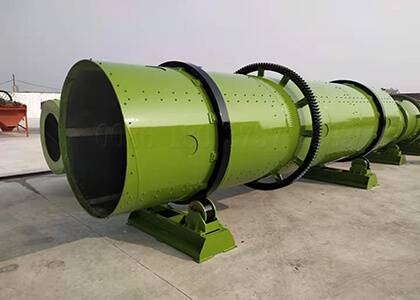 Drum granulator for sale
Model: SXZGZ-1870(can be customized)
Power(Kw): 15
Diameter(mm): 1800
Length(mm): 7000
Installation Angle: 2-5°
Capacity(t/h): 5-8
4 preparation steps to operate your rotary granulation machine safely and efficiently
This drum pelletizer should be installed on the horizontal concrete foundation, fixed with foundation bolt. And the motor body should be vertical to the horizontal.
Check the bolts to make sure whether they are loose or not.
Then you'd better look out whether the host door is fastening or not after your installation.
Dispose the power cord and control switch in accordance with the power of equipment.
Take a no load test after you finish checking. And then you can granulate trustingly. Here are steps for no load test:
Run the drum rotary in ballast for 8 hours. It shows the machine works normally if the bearing temperature rises steadily. And the temperature should be no more than 50°C if you stop the machine.
Focus on the noise of gearwheel, making sure it is normal.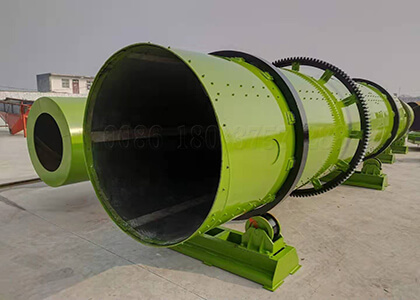 Rotating drum fertilizer pellet making equipment for sale
Model: SXZGZ-1870(can be customized)
Power(Kw): 15
Diameter(mm): 1800
Length(mm): 7000
Installation Angle: 2-5°
Capacity(t/h): 5-8
How to maintain the rotary granulator to make it work better?
You'd better use high quality lubricating oil on bearing, because it plays an important role on the machines' running. It influences the service life of drum granulator machine. You should use lubricating oil on the following parts:
Rotating bearing
Roll bearing
All the gearwheel
Active bearing, sliding plane
Check the strake often because it is easy to be loose.
Keep an eye on making sure whether all the parts of the machine work well or not, when rotary drum granulator machine is working.
You must stop the machine in time, if you find the bearing oil temperature is raised. Then check and eliminate it, also for the gearwheel.
Oil these parts frequently to make sure the machine work better.
Scribble dry butter on gearwheel before the machine works.
Wipe dry butter on the surface of rolling belt every 7 days.
Add gearwheel oil before the speed reducer works.
change the gearwheel oil every 4 months.
You should stop to check the machine immediately and eliminate it if the rotating gearwheel have acoustical shock.