Fertilizer mixer is a machine for mixing powder materials. It is important for your fertilizer mixing plant. Our company has many mixers and they are different in production capacity and appearances. It's alternative for you to select a satisfied facility for your fertilisers manufacturing requirements. What's more, it's applicable for you to form a fertiliser production line. There are suitable facilities for you to equip with blenders. We will provide you good fertilisers blenders at a favorable price.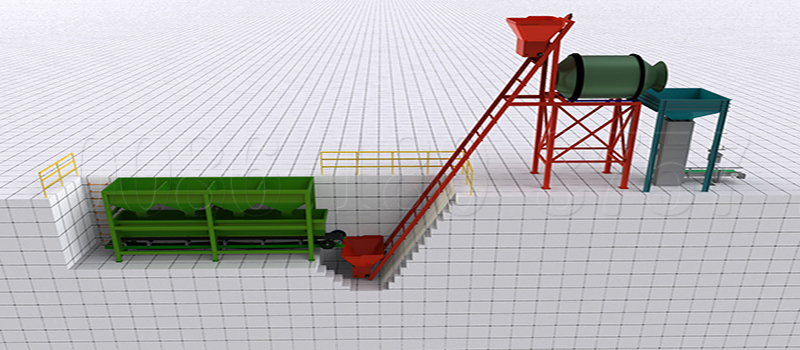 Models of fertilizer blenders for sale
Shunxin fertilizer equipment manufacturer has various fertilizer mixers. They are vary in production capacity, working principles, etc. Whether you want to use it for bulk blending granules manufacturing or powdery fertilizer mixing, there are suitable equipment for your reference. Especially, all of them can be customized for your different fertilizer blending programs.
Horizontal dry powder mixer machines for organic manure fertilizer production line
This dry powder blender machine is a novel equipment. It has high mixedness and little residues. We employ advanced design of rotor, which decreases the materials residues. Especially, this special design can pulverize the large materials block. The horizontal blenders can be divided into 2 kinds: Double shaft type and single shaft type. It is applicable for you to use them for your organic fertilizer production line.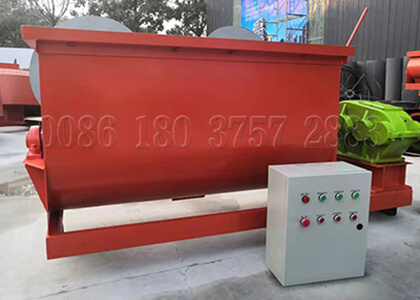 Horizontal dry powder mixer machines For sale
Model: SXWJ-1630(can be customized)
Dimensions(mm): 3950×1720×2100
Motor Power(kw): 22
Speed Reducer Model: ZQ500-48.57
Capacity(t/h): 10-15
Hot sale double shafts horizontal fertilizer blender equipment for cow dung fertilizer making
This type of blenders is widely used in the fertilizer production. It takes advantages of two symmetrical spiral shafts.You can add waters uniformly when it stirs the dry powders. Doing this, the powders will be in proper moisture content.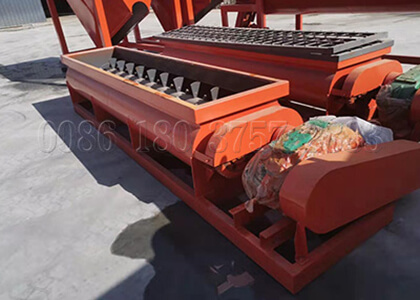 Double shafts horizontal mixer For sale
Model: SXSJ-1050(can be customized)
Dimensions(mm): 6200×1300×1200
Motor power(kw): 22
Speed Reducer Model: ZQ500-31.5
Mixing Speed(r/min): 35
Single shaft small chicken manrue fertilizer powder mixer machine for sale
This machine is suitable for continuous mixing of powders. The difference between the single shaft mixers and double shaft mixing facilities is the production capacity. If you want to buy a high production blender for your chicken waste fertilizer making, the double one will be more suitable than the single one.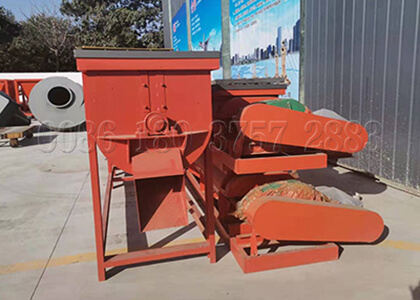 Single shaft blending equipment For sale
Model: SXWJ-9015(can be customized)
Dimensions(mm): 2350×1200×1000
Motor Power(kw): 11
Speed Reducer Model: ZQ350-23.34
Capacity(t/h): 3-5
Pan mixer machine on hot sale
Flat pan blending machine consists of mixing plate, discharge port, mixing arm, frame, gearbox and the driving motor. It has high working efficiency, long service lifetime, fast stirring speed. Moreover, it can be used for continuous producing. It is widely used for organic fertilizer manufacturing plant.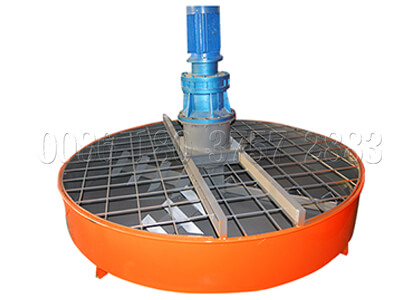 Disc pan mixing machine For sale
Model: SXPJ-1800(can be customized)
Dimensions(mm): 1800×1800×1800
Motor Power(kw): 7.5
Disc Diameter(mm): 1800
Edge Hight(mm): 400
Speed Reducer Model: BLD15-87
Capacity(t/h): 3-5
BB fertilizer blending equipment for mixed fertilizer granules processing
The BB fertilizer mixer machine is the ideal choice for BB fertilizer manufacturers. It adopts positive and negative rotation. If you want to mix your materials, turn it into positive rotation. While the negative rotation can discharge materials. Using this machine, you can blend your various granules evenly and efficiently.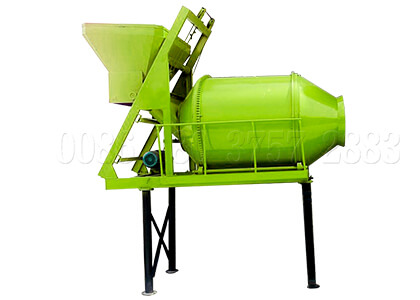 BB fertilizer blending equipment For sale
Model: SXBM-1525
Power: 5.5kw
Lift Power: 1.5kw
Capacity: 5-10t/h
Application: mixing pellet fertilizers
How to mix fertilizer properly for your batch mix plant?
If you want to manufacture mixed fertilizer, it is not enough for you to euqip with the fertilizer mixing machine only. You had better equip with a batching machine for batch the powdery or granular materials well.
For your batching requirements, Shunxin mixing machine factory has machines for you to batch your materials in an resonable ratio. What you need to do is feeding materials into the feeding port. Our machines employ advanced design and technology for improving the accuracy of batching ratio. Meanwhile, we have static batching machine for your qualitified fertilizer production. And for your continuous batching, the dynamic automatic batching equipment is more suitable.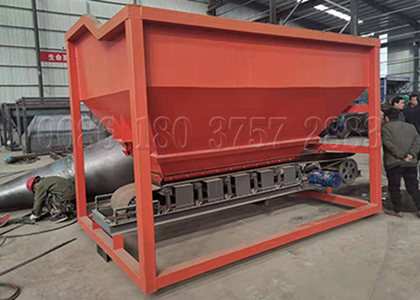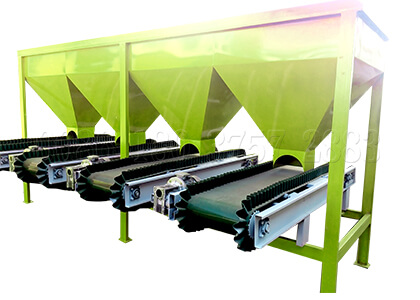 And then there are flat pan mixer that we can recommend to you. It has good reputation among our customers for their organic fertilizer production. These are information about mixers structures and how it mix the materials. It's an easy-operating mixer with high efficiency.
There are mixer arms above barrel, and this barrel is in the disc center. The mixer shaft rotates, thereupon, the barrel will drive the mixer arms. Then the mixer arms will rotate, too.
If you add materials into the mixer, the motor drives the main axle by the reducer, and then the main axle will drive the gear of blending machine for mixing.
Start the mixer when it is full loaded. The mixer can blend the materials evenly and the blended powders will be out from the bottom.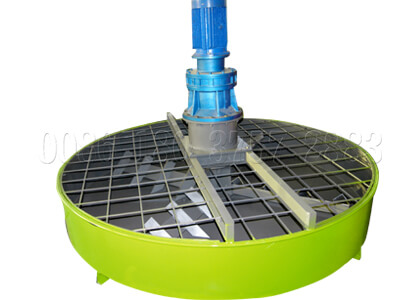 Flat pan mixer For sale
Model: SXPJ-2200(can be customized)
Dimensions(mm): 2200×2200×1850
Motor Power(kw): 7.5
Disc Diameter(mm): 2200
Edge Hight(mm): 400
Speed Reducer Model: BLD15-87
Capacity(t/h): 6-8
What equipment you can use for mixed fertilizers manufacturing line?
Fertilizer mixers are indispensably facilities in complex fertilisers manufacturing. Before the mixing process, you need equip with some other machines to form a mixing line of compound fertilisers.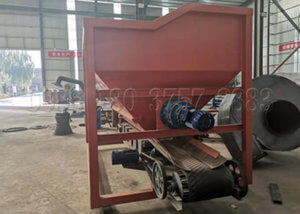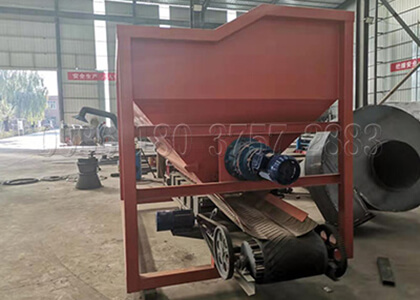 Fertilizer batching equipment is key in fertilizer mixing process. It is a fertilizer mixer proportioner. For your mixed fertilizer manufacturing, ...
Click for Price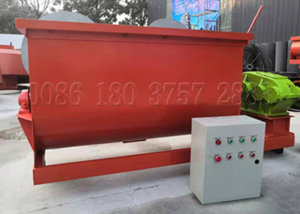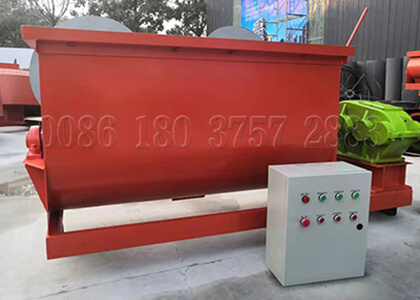 Fertilizer mixer is a machine for mixing powder materials. It is important for your fertilizer mixing plant. Our company has ...
Click for Price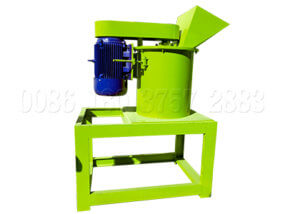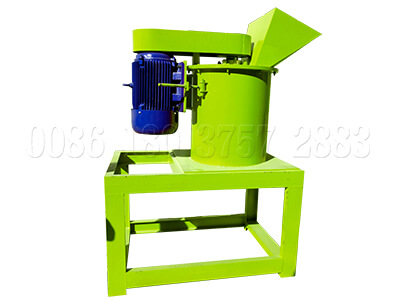 Fertilizer crusher is often used for turning composted organic fertilizer into powders in fertilizer production line. We employ high quality ...
Click for Price
All fertilizer mixer parts are specially designed for your fertilizer blending plants facility
Shunxin fertilizer mixing machine manufacturer produces machines with delicate design. The structures of the mixing equipment are simple. Following explanations will let you understand these structures easily.
The frame parts: All parts of machines are fixed on the frame. What's more, the frame adopts quality carbon steel sheet and U-steel. These materials have reached or exceeded the national standards.
The transmission parts: The transmission part of the pan blenders employs the planet-cycloid retarder to drive the main axle.
The horizontal mixers use motor to work the belt pulley, vee belt and reducer. Then the main shaft can rotate.
The stirring parts: The stirring parts of mixer machines are working by the mixing blades. The blades driven by the driving wheel will stir the materials evenly in the mixing room.
Bulk blending fertilizer blends the fertilizer granules
Special materials we use on fertilizer mixer for better running in your fertilizer blending programs
To avoid the powder materials blocking the machine, our horizontal mixer factory employs special materials when manufacture them. Furthermore, we also adopt durable materials to make machines run steadily.
The flat pan mixing tool uses polypropylene plate inside the disc. This special material can make sure the powders will not stick on the disc wall. Moreover, it is abrasion resistance, making the machine serve you for a longer time.
There is stainless steel spiral blade on the horizontal materials mixer and its tool bit uses hard steel. These bring the machines longer service life.
The nozzle of water adding device uses stainless steel, which is corrosion prevention.
The special materials of mixers make the mixing process smooth and also guarantee the high quality of blending facilities.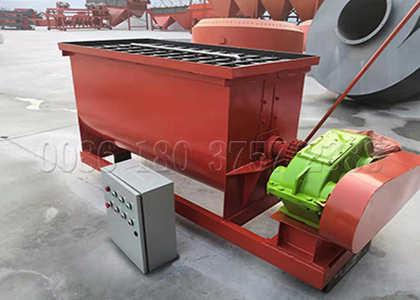 Fertilizer mixer for sale
Model: SXWJ-7015(can be customized)
Dimensions(mm): 2350×1200×1000
Motor power(kw): 7.5
Speed Reducer model: ZQ350-23.34
Capacity(t/h): 2-3
What is chemical fertilizer mixing unit cost?
As a fertilisers facility manufacture, Shunxin powder mixing machine manufacturer is a brand-established factory for fertilizer machines making. We manufacture affordable wholesale fertilizer mixing machine with high quality materials and advanced design. There are many fertilizer mixers, and we also provide different specifications of machines for your reference. If you need, you can contact our customer service center to customize machines for your fertilizer production requirements. We can provide you customized mixing machine at reasonable price.
There are high configuration machines for you with high quality materials and high-end equipage for your requirements. Thereupon, the blending machine price will be higher.
If you have an exiguity of budget, we can also customize machines with low configuration considerately for you budget.
The high production capacity facility is available as well. If you need, we can tailor a machine for your production capacity requirements.
There are also complete fertilizer making equipment for you if you want to produce fertilisers conveniently. Especially, we have different configurations for you to choose. Whether the high configuration or the low configuration, whether the high quality materials or the ordinary materials, we will recommend and tailor the most suitable set for your budget.