Fertilizer crusher is often used for turning composted organic fertilizer into powders in fertilizer production line. We employ high quality materials and advanced technology on the machines, guaranteeing the convenient operating and long service time. Furthermore, there are various types of fertilisers pulverizers for your reference. Whether you want a high output machine or a facility with small production rate, our crushing machines can satisfy you. What's more, it is important in whether fertilizer powder production line or granules making line.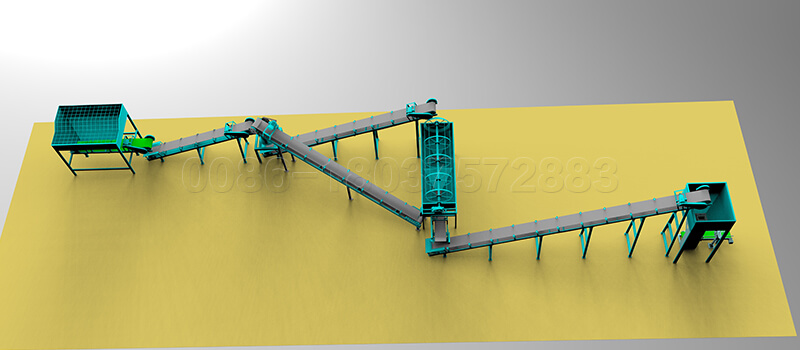 How can you use fertilizer crushers for making chicken manure fertilizer powder?
Semi-wet chicken manure pulverizing machine is a key facility in organic fertilizer production line. It's usable for crushing fermented chicken manure into powders. Following information about chicken manure crushing tool will let you understand how the fine pulverizer works.
There is high speed rotating blade inside the machine, which can pulverize the materials.
When you put fermented chicken manure into the machine, the higher rotor will crush the materials into fine pellets.
Then the fine pellets will be down, and they will be re-crushed into fine powders by the lower rotor.
Finally, the pulverized powders can be out.
If you want to make powder fertilizers, then you can send them into the screening machine and pack the qualified powders. Meanwhile, it is also suitable for an organic manures granular production line as well. You can send the screened powder into the chicken manure granulators for pelleting.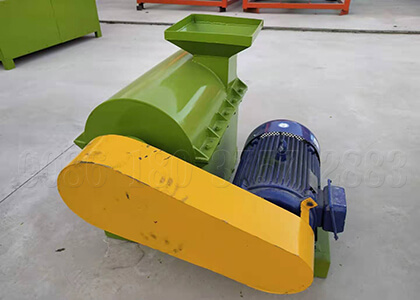 Chicken manure fertilizer crusher for sale
Model: SXSF-60(can be customized)
Power(kw): 30
Inlet Size(mm): 500×300
Crushing Granularity: 50 mesh
Dimensions(mm): 1300×1450×1300
Capacity(t/h): 1.5-3
Different fertilizer crusher machines to meet your fertilizer production capacity requirements
Pulverizing is an important step in a powder fertilizer making line. Meanwhile, it plays a key role on the preparation of granulation. There are many types of fertilizer pulveriser for your reference. You can choose a machine for your different requirements on production capacity.
What fertilizer powder pulverizing equipment is applicable for your high output fertilizer production requirements?
These 3 types of grinders are high output equipment. It is suitable to use them for your large scale fertilizer production line. Their output can reach 20 ton per hour. And with these machines, you can get well pulverized fine powder. Besdie, it is also applicable for you to use them for re-crushing in your fertilizer production lines.
Hot sale vertical crushing tool
This new vertical crusher machines accept materials which has high water content as high as 25%~50%. The materials crushed by it will be about 50 mesh, meeting the requirement of granulation. What's more, it is applicable for grinding the hard materials including glass, ceramics, bricks, gravel from organic fertilizer of municipal solid waste. It is an ideal machine for your organic fertilizer materials powder making. Generally, the organic compost materials will be wet. This vertical manure grinder can pulverize them conveniently without blocking.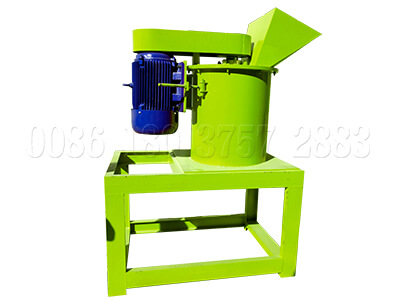 New vertical pulverizing machine For sale
Model: SXFLF-1000(can be customized)
Power(kw): 37
Inlet Size(mm): 650×450
Dimensions(mm): 1800×1200×2500
Capacity(t/h): 8-15
Chain crusher equipment for sale
Chain pulverisers are suitable for pulverizing blocks and the returned materials in compound fertilizers line. For different installation ways, this machine can be divided into vertical chain crush machine and horizontal chain crushing facility. Meanwhile, we manufacture double-shaft fertilizer powder crusher with large production capacity.It is usable for pulverizing large pellets. It's high production capacity is 25 ton per hour, while the small output is 1 ton per hour.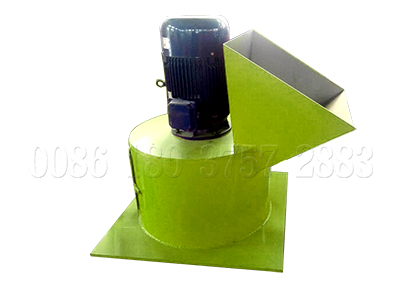 Chain crusher For sale
Model: SXLTF-800(can be customized)
Power(kw): 22
Feed Grain Size(mm): <120
Output Particle Size(mm): ≤3mm 57%-90%
Capacity(t/h): 5-8
Hammer mill crushing machine for sale
It is suitable for grinding medium-hard materials by impacting. If there is a large-scale organic manure fertilizer production, it will be the first choice for you to crush materials. It can accept both dry pulverizing and wet pulverizing.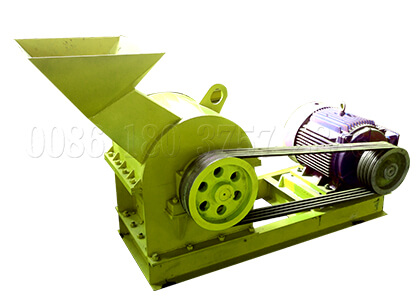 Hammer crusher for sale
Model: SXPC-1212(can be customized)
Power(kw): 180
Size of Feeding materials: 200 mm
Crushing Granularity: 20 mm
Capacity(t/h): 90-110
Fertilizer pulverizers recommendations for small scale fertilizer powder making plant
There are 2 types of pulverisers for your small fertilizer company. If you want a machine to crush 1 ton per hour, the small size cow dung fertilizer crushing tool and hammer pulverizing equipment can meet your needs. Generally speaking, the cage crushers are more suitable for compound fertilizer processing. Andfor your cow dung fertilizer powder making, you can use the semi-wet materials crusher facilities.
Hot sale semi-wet materials crusher
This type of crushing equipment is often used for bio-organic compost crushing, municipal solid waste crushing, agricultural wastes crushing, industrial organic wastes and so on. Especially, it has good effects on pulverizing chicken manure, sodium humate and so on. It is popular in organic manure processing line. Its production capacity is between 1-8 ton per hour. You can choose a suitable specification according to your production requirements.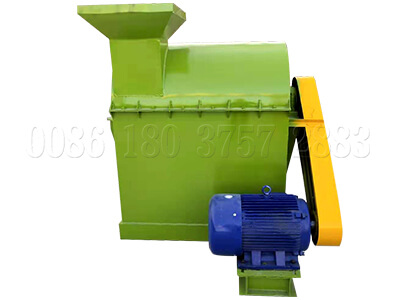 Semi-wet materials crusher for sale
Model: SXSF-60Ⅱ(can be customized)
Power(kw): 30×2
Inlet Size(mm): 500×300
Crushing Granularity: 80 mesh
Dimensions(mm): 1500×2150×1920
Capacity(t/h): 1.5-3
Cage crush machine facility for sale
It belongs to middle size horizontal cage pulveriser. It is designed on the base of impact crushing principle. Moreover, its simple structures make it easy to maintain and clean.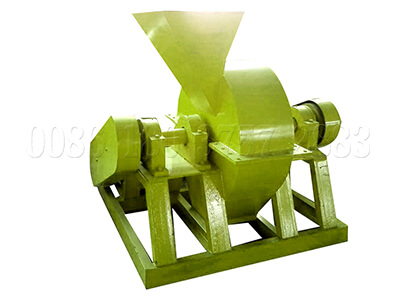 Cage crusher For sale
Model: SXLSF-600(can be customized)
Power(kw): 11×2
Inlet Size(mm): 380×320
Dimensions(mm): 1500×150×1500
Capacity(t/h): 4-6
What crushers are suitable for your special materials pulverizing?
Whether for the organic fertilizer processing or compound fertilizer granules making, there maybe some special materials. Here we provide you straw pulverizing equipment for grinding straws. It is often used for organic manure compost making line. And for your urea compound fertilizer granules making line, we have urea fertilizer pulverizer for making powder and granulate conveniently.
Small straw grinders for sale
If your materials are straws, this crusher will be the most suitable machine. You can use it for pulverizing the straws and then add into the compost for adjusting the moisture content. Our straw crushing equipment can process 500kg straws per hour.
The straw crushing facility is a new product of wood powder machines. It can grind crop wastes, such as corn stalk, straw, peanut husk, bean stalk, flower stalk. It's suitable for you to apply it on organic fertilizer manufacturing, paper production and so on. This machine can not only turn green waste into treasures, but also protect the environment. Meanwhile, it brings more social efficiency.
Urea fertilizer powder grinding machine for sale
If you want to make urea compound fertilizer granules, it is necessary for you to pulverize the urea fertilizer materials, And then mix it with other compound fertilizer materials for granulating. There are urea fertilizer pulverizing machine for you to make urea fertilizer powder dedicatedly. Meanwhile, we employ delicate designs for you to control the production capacity.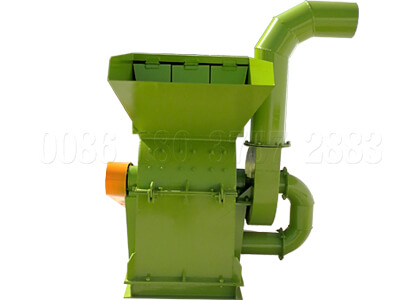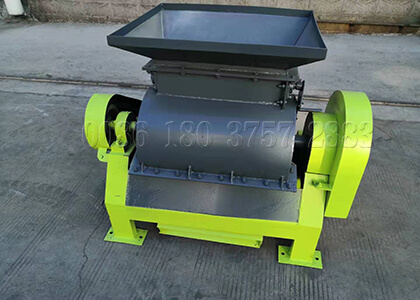 All the machines can be customized for your own fertilizer manufacturing requirements. Contacting our customer service center, we can tailor for you to meet your needs. Whether the sizes, the production capacity or the materials of machines, we absolutely make you satisfied.
Advanced design and quality materials of fertilizer crusher for improving the user experience
Our fertilizer equipment producing factory is a professional manufacturer. What's more, we manufacture machine with advanced design concept and all the machines employ quality materials.
The advanced design concept for better operating
The semi-wet organic materials pulverizers adopt screens. This design makes sure the wet materials will not cause the blockage. Otherwise, it will affect your fertilizer manufacturing.
Both the hammer mill crusher and cow dung pulverisers use higher rotor and lower rotor to pulverize the materials into powders evenly.
There are both rubber tile and PP inside the pulverizing facilities to avoid sticking.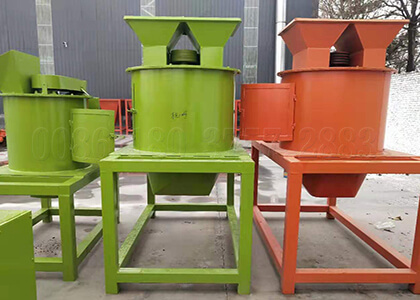 Vertical fertilizer crusher For sale
Model: SXFLF-1000(can be customized)
Power(kw): 37
Inlet Size(mm): 650×450
Dimensions(mm): 1800×1200×2500
Capacity(t/h): 8-15
The quality materials for better running
The hammerhead of pulverizer uses high alloy which is more wearable than ordinary hammerhead, prolonging its lifetime.
The hammer pulverizing facilities employ cast steel on bearing box to make the machine runs steadily.
There is special steel on the chain cutter head of vertical type crushing tool for improving the production efficiency.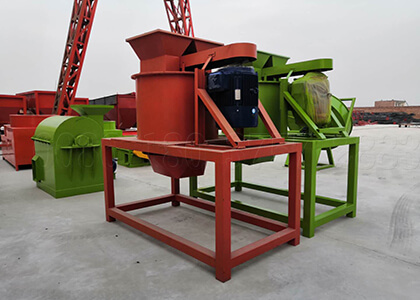 fertilizer pulverizing machine manufacturing For sale
Model: SXFLF-1000(can be customized)
Power(kw): 37
Inlet Size(mm): 650×450
Dimensions(mm): 1800×1200×2500
Capacity(t/h): 8-15
What fields can you apply these fertilizer crushers in?
The fertilizer crushers can be widely used for pulverizing materials. There are many fields you can apply them in.
Fertiliser making. It's the most popular application among our customers. It's suitable for you to apply them whether in the organic fertilizers production line or the compound fertilizers production line.
Chemical industries. The cage type fertiliser crusher machines is applicable for crushing monoammonium, diammonium, urea and other hard chemical materials.
There are some rock breakers such as hammer pulverizier, double shafts chain type crushers. It's applicable for you to apply them in these fields for crushing medium-hard materials.
Mineral products.
Building materials.
Coal.
Semi-wet organic materials are crushed by our pulverizing equipment
What should you do if you want to make a powder fertilizer production line?
If you want to produce powder fertilisers, it' necessary for you to buy a fertilizer crusher to make materials into powders. Equipping with some other facilities, you can form a complete fertilisers powder manufacturing line. Complete powder fertilizer production processes includes pulverizing, screening and packing. With these machines, you can process your composted organic fertilizers into fine powdery fertilizers commerciaclly and efficiently.
Shunxin fertilizer facilities making factory can provide you the complete high quality equipment for your fertiliser production plant. What's more, we can provide you reasonable suggestions for your own fertiliser making requirements and even tailor-made for you.