Cow dung is a good raw material for making organic fertilizers. However, there are many farmers who do not know how to deal with the cow dung. Some of them use them as fertilizers. While, fertilizing them directly to the crops not only does harm to the plants, but also causes pollution. Here, we recommend cow dung fertilizer machines for you to get rid of these problems. Using the cow dung making machines, you can make both powdery organic fertilizer and granular fertilizer.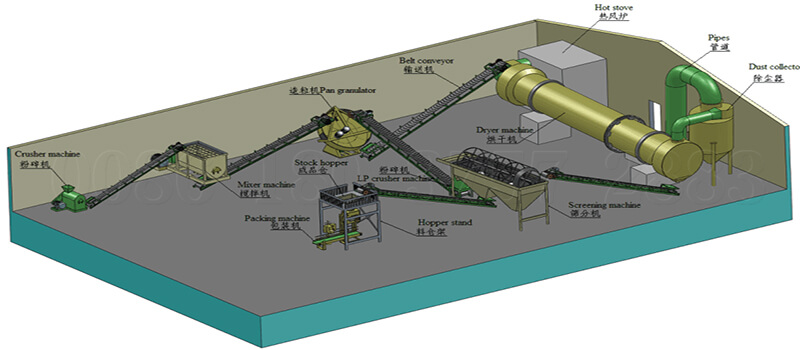 Why do you need cow dung fertilizer machine?
Cow dung is a type of organic fertilizers. It is rich in not only organic matters, but also nitrogen, phosphorus and potassium. However, if you fertilizer the fresh cow dung into the crops directly, there will be much troubles because of the harmful elements. For dealing with these troubles, you can make them into organic fertilizers by using cow dung machines. We have complete fertilizer making machine and there are also many types and specifications of machines for your reference. With these machines, you can make organic fertilizer conveniently and the cow dung manure will be more fertile and healthier. For making cow dung organic manure, there are 2 fertilizer production lines for you. You can make both cow dung powder fertilizer and pellets fertilizer.
What are the equipment for cow dung powdery fertilizer making line?
We have both powdery organic fertilizer manufacturing machines and pellets fertilizer production line. If you want to make cow dung manure powder, here are some recommendations of equipment for you.
Cow dung dewatering screw press machine. For making a compost, the dewatering machine is necessary. Using this machine, the solid cow dung will be more convenient for transporting. Moreover, you can sell the solid cow dung directly. At the same time, you can also use it for making organic fertilizers.
Small scale compost turner. Compost turning equipment is a key cow dung processing machine. With a turning machine, it will take you less time for composting. Meanwhile, the labor force will be reduced.
Cow dung powder making machine. Shunxin manufactures different types of cow dung powder equipment for your reference. Equipping with a powder making machine, you will get fine cow dung manure powder. Here, our company recommends you semi-wet materials crushing machine and the vertical crusher, which are suitable for pulverizing animal manures.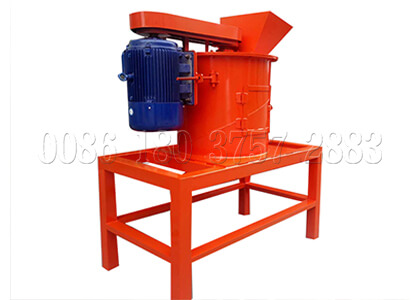 Cow dung powder making machine for sale
Model: SXSF-60Ⅱ(can be customized)
Power(kw): 30×2
Inlet Size(mm): 500×300
Crushing Granularity: 80 mesh
Dimensions(mm): 1500×2150×1920
Capacity(t/h): 1.5-3
How can you make dry cow dung fertilizer by using fertilizer machines?
Most fresh cow dung is high moisture and it's necessary for you to drying it before the composting. Especially, if you use a cow dung drying machine, you can get both liquid and solid cow dung manure. This machine can separate the solid and liquid. It uses screw press force for separating the liquid from the materials. The non-blocking submerged pump can send the cow dung into dewatering machine. And then you can collect the solid for making composts. Meanwhile, the liquid will be discharged through the pump so that you can fertilize them into your crops directly.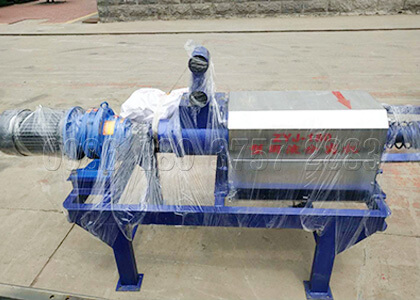 Cow dung drying machine for sale
Model: SX-230
Main Power(kw): 5.5
Pump Power(kw): 2.2
Voltage(v): 380
Dimension(mm):2350×800×1150
What types of cow dung fertilizer machines can you use for composting?
Making manures into organic fertilizers, you'd better make a compost firstly. There are two composting methods you can use for making a cow dung compost. What's more, we provide various compost making machines for your requirements. We have both windrow turners and groove type turning machines. Moreover, it's alternative for you to choose a suitable compost turning facility.
Compost windrow turner for cow manure composting
Windrow type composting method is that shaping the cow dung materials into long and narrow windrows. Then using a compost fertilizer making machine for turning these materials regularly.
The crawler type compost turner is a representative of compost turner machines. It crosses the windrows and the stirring tooth will turning the dried cow dung well. What's more, it takes you less area for working. And you can also use our self-moving type compost turner. Besides, we have small scale compost turners for your requirements as well. You can use this compost fertilizer turning machine for your small scale cattle manure making process. Especially, it's a combination of turning, transporting, mixing and crushing.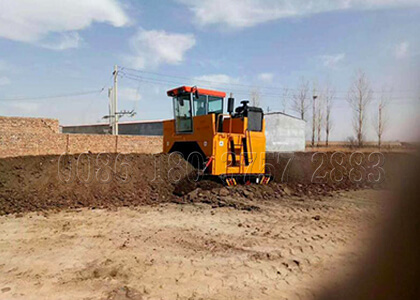 Cow manure windrow composting machine for sale
Model: SXLDF-2300(can be customized)
Turning Width: 2.3m
Turning Height: 0.6-1m
Row Spacing: 0.8-1m
Power: 75kw
Groove type cow dung compost making machine for sale
For your groove type composting requirements, there are rail type compost turner machine and chain plate type compost fertilizer machine for your reference. If you use these groove type composting equipment, you should build a groove and equip with a transitional machinery.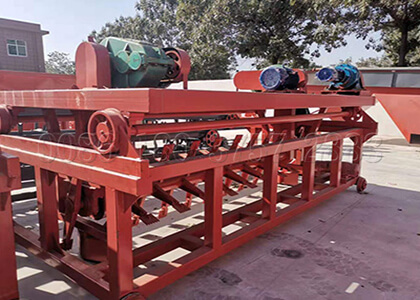 groove type cow dung composting equipment for sale
Model: SX-3000(can be customized)
Main Power: 18.5kw
Mobile Power: 1.5kw
Lift Power: 1.1kw
Application: Turning the compost on the groove
How do cow dung fertilizer machines work for processing cow dung to fertilizers granular?
Making cow dung fertilizer granules, you should turn the fertilizer powders into fertilizer pellets. Besides the fertilizer powder making machines, what you need are cow manure fertilizer pellet machine, drier, cooler, screening equipment and coating machine. Then how do these machines process powder into fertilizer pellets?
Pulverized cow dung granulating. The granulator is mainly used for making powders into pellets. After you crush composted cow dung into powders, it's time for you to put them into pellet making machine. For making the finished pellets are uniform sizes, you can equip with a powder mixer.
Granulated cow manure drying and cooling. The granulation equipment makes pellets in a high temperature and it adopts wet granulation methods. Thus, the finished granules are heated and humid. Using our drying machine and cooling machine, the fertilizer pellets will be convenient for using.
Pellets screening. Using a rotating screening machine, it will be easy to separate unqualified pellets from the products. Then you can re-crush or re-granulate them again. Meanwhile, the qualified granules are ready for coating.
Qualified products coating. Coating the fertilizer granular is helpful for improving pellets physical properties. Especially, the rotary coating equipment uses special materials when we manufacture.
New organic manure fertilizer granulation line for your cow dung fertilizer granules making
How much will you cost if you want to turn 1-ton cow down into fertilizer per hour?
If you want to buy a set of cow dung fertilize machines for your small scale fertilizer production plant, you can choose a suitable pelletizer. We recommend you new organic fertilizer granulation machine and pan granulator is also an ideal machine. These two types of granulators are different in sizes, appearances and production capacity. Meanwhile, there are many specifications for your reference. Thus, it's alternative for you to choose according to your preference. Different configurations also have different prices. It will be better if you tell your requirements to us. And then we can recommend you a set of suitable equipment and even customize for you.