Using organic fertilizer is a popular trend in agriculture. Organic fertiliser can provide many advantages for whether the plants or the soil. If you can make your own organic fertilisers, you may get more economic efficiency and ecological benefits. What's more, the raw materials for producing organic waste fertilizers are easy to get, it's convenient for you to form an organic fertilizer production line. Our fertiliser equipment manufacturing factory is a professional supplier of organic fertiliser production line. Furthermore, we can provide you high qualified equipment at favorable price. It's time for you to have a try on organic fertilizer manufacturing.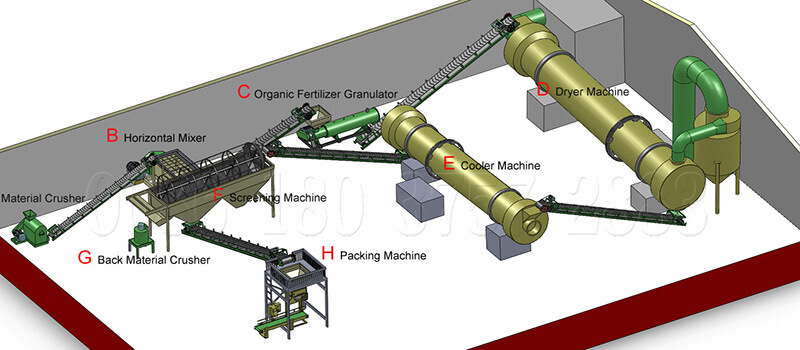 Purpose of forming an organic fertilizer production line
Organic fertilizer is rich in organic acid, peptides, and nitrogen, phosphorus and potassium elements. Therefore, the organic manures can provide nutrients for planting. It has great effects on agriculture. Moreover, it is convenient for you to make an organic waste fertilizer production line, if you want to make fertilizer better.
The cow dung, chicken manure and some other organic waste are good materials for making organic fertilizers. Forming an organic fertilizer production line, you can recycle these organic wastes in an economic way.
Making this fertilizer can improve the soil condition and soil fertility. If you fertilize the organic fertiliser, its organic matter will strengthen the soil fertility and buffer capacity. Thereupon, the soil condition will be better for plants growing.
There will be high plants production if you use this fertilizer for fertilization. There are rich organic matter and other elements in organic manure fertilizer. These can provide nutrients for planting and the microorganism in soil. The activity of microorganism is good for soil and then the soil will be better for the growth of plants. Meanwhile, the nutrients in soil and fertilizers are helpful for increasing the plants production.
The organic manures fertilizer you make can improve use ratio of chemical fertilizer. This fertiliser is rich in nutrients but the amount is less than chemical fertilizer. While the chemical has single elements. If you fertilize chemical fertilizer with organic manure fertilizer, the two fertilizers will complement mutually. Thus, the combination of them will improve the use ratio of fertilisers.
Complete organic fertilizer production line equipment for your site
A single machine is not able to make good fertilizer. It's more suitable for you to equip with a complete organic fertilizer production line equipment. With complete equipment, your fertilizers will have higher fertility and better appearances. Moreover, it will be more convenient for whether the transporting, the storing or the application. Here we provide you complete facilities for your fertiliser production. While, there are also some other equipment configurations for you. Especially, we can also customize for you according to your budget and some other production requirements.
Compost turners for aerobic fermentation.
Crushers for crushing fermented materials into powders.
Mixing facilities for mixing powder materials uniformly.
Pelltizers for making powders into pellets.
Drying machine for lowering the pellets moisture content.
Cooling facility for lower the pellets temperature.
Screening machine for selecting qualified fertilizer granules.
Coating facilities for smooth the granules.
Package equipment for transporting and storing conveniently.
If you use animal manures as raw materials to manufacture organic manures, you'd better use solid-liquid separator machine to dehydrate the manures. Then you can use organic waste compost tuner for fermenting.
This is the organic manure fertilizers pellets production line. Meanwhile, several of these machines can be used to form a powder fertilizers production line. The dehydrating machine, fermentation facility, crushing machines, screening equipment and package facilities are applicable for forming a powder organic fertilisers production line.
Machines for you to from a powdery organic fertilizer production line
Types of fertilizer facilities for your organic fertilizer production line
We manufacture many machines for different raw materials, whether the fermentation equipment, the granulators or other facilities. However, there are some facilities which are used for compound fertilisers production line. Here we can recommend you some machines for selecting a suitable equipment for organic waste fertilizers production.
The crushers for organic materials crushing and powdery fertilizer manufacturing
Crushing is an important process for whether organic fertilizer powder making line or commercial organic fertilizer granules manufacturing. In the powder making line, crusher can help u make fine powders. And for the granular fertilizer producing, you had better make your materials into powder, and then it is time for granulating. Here recommends three types of pulverizer for you to make fine powder.
New organic fertilizer vertical crusher for sale
The vertical type crushing machine can puliverize the high moisture content organic materilas directly. And it can crush your materials into fine powders efficiently. Besides, if there are any problems on this machine, it is convenient for you to check it and maintain.
Semi-wet organic materials crushers for sale
This simi-wet type grinding machine is popular in organic manure fertilizer powder making line. There are two type of semi-wet crusher for your requirments. The double shafts type crusher can process the organic manure fertiliser into finer powder than the single shaft one.
Especially, the manures fertilizers hammer crusher is the first choice for your large scale production of organic fertiliser.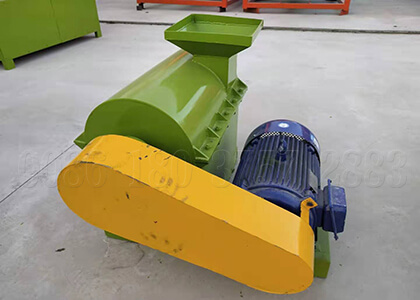 Organic fertilizer pulverizer for sale
Model: SXSF-60Ⅱ(can be customized)
Power(kw): 30×2
Inlet Size(mm): 500×300
Crushing Granularity: 80 mesh
Dimensions(mm): 1500×2150×1920
Capacity(t/h): 1.5-3
The mixers for manufacturing organic waste fertilizers
In your organic fertilizer granular making line, you can mix your organic materials with some other elements. And with a mixing machine, you can blend the powdery materials evenly and then the granulating effects will be better. What's more, for your powdery ferilizer manufacturing plant, blending evenly also makes better fertilizer fertility.
Horizontal organic materials mixer for sale
For your organic powdery materials mixing, there are single shaft and double type mixer for you to choose. If you need a machine to mix powders with large capacity, we recommends the double shaft one. This machine has higher working efficiency and larger capacity than the single one.
Disc organic fertiliser mixer for sale
Besides, the disc type blending machine has three outlets for discharging. Thus, you can also use it as a feeding machine for feeding materials for granulation machine.
If you use the horizontal mixer for mixing, you'd better equip two machines, one for mixing, one for feeding.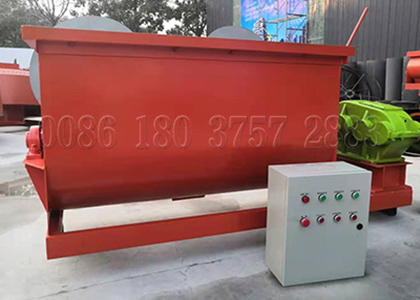 Organic fertilizer horizontal mixing machine for sale
Model: SXWJ-9015(can be customized)
Dimensions(mm): 2350×1200×1000
Motor power(kw): 11
Speed Reducer model: ZQ350-23.34
Capacity(t/h): 3-5
How does organic fertilizer production line use coco peat as medium for high quality fertilizer making?
Coco peat is fiber powder of cocoanut husk. It is a waste from cocoanut. However, this coco peat is good for plants. Because It is rich in organic matters. There are plenty of coco peat in India, Sri Lanka, Malaysia and Philippines. So it's easy to get. The fertilizer will be better if you add coco peat in organic waste fertilizer production line.
You just need to mix powder coco peat with the powder materials by the mixing machine. If you mix them at a certain ratio according to the formula, the finished fertilisers granular will have better fertility. Meanwhile, the coco peat will highly improve the soil condition as a medium.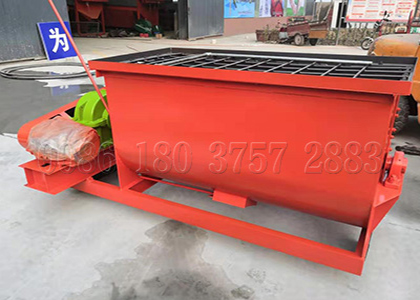 Fertilizer mixer for sale
Model: SXWJ-7015(can be customized)
Dimensions(mm): 2350×1200×1000
Motor power(kw): 7.5
Speed Reducer model: ZQ350-23.34
Capacity(t/h): 2-3
The granulators for making organic fertilizer pellets
For your organic fertilizer granules making line, there are 3 types of granulators for you to choose. There are patent organic fertilizer granulation machine for you to make organic fertilizer granules dedicatly. And you can also use pan granulator for pelletizing organic fertilizers. Meanwhile, for your large scale organic fertilizer pelletizing, you can use the drum pelletizers.
New patent organic fertilizer dedicated granulation equipment
This new designed organic cow dung fertilizer granulator has the highest granulation rate among all the organic fertilizer granules making machines. It is designed for process organic manure ferilizer dedicatedly. If you want to make high quality pure organic fertilisers, this machine is a suitable granulator.
Mini organic fertilizer pan granulator machine
The plate type granulation machine is a popular granulator for pelletizing the organic chicken manure fertilizers. There are much specifications for you to choose. It can meet your different requirements. Whether you have a small scale chicken farm or there are much chicken manure you should process, you can choose a suitable disc fertilizer pelletizer in Shunxin. Meanwhile, if you want to make a experiment for your fertilizer manufatcuring, this machine will be a good choice.
Drum type granulator for large scale organic fertilizers making plant
For your large scale organic poultry manure farm, you can equip with a rotating type granulator. It has high output, which can reach 30 ton per hour. This machine is a wet granulation machine. And you can also add vapour into the cylinder for better granulation.
Organic fertilizer production project proposal sample for small scale organic fertilizer making plant
For small scale production line, there are two types of equipment configuration for your reference. According to your production capacity, plant scale and the production requirments, here you can see some fertilizer processing machines:
Granular organic fertilizer manufacturing machines with small production capacity
If you want to from a fertilizer production line with small yield for producing fertilizer granules 1 ton per hour, we have forklift type turner machine. It can be used as forklift for transporting the organic materials and turner. For your information, if the moisture content of your fresh organic waste is too high, you had better use a dewatering machine for dehydrating. And then we have small scale crusher for you to puliverize composted organic materials. For your granulating requirements, the new patent organic fertilizer granulation machine will be suitable for you. After the granulation, it is alternative for you to dry, cool, screen or coat them. Meanwhile, there is also packing machines for you.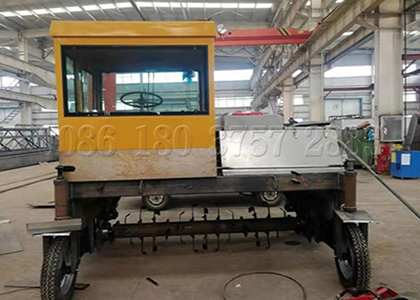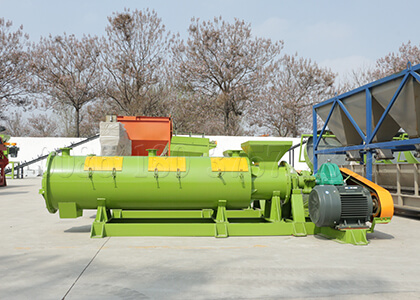 Simple organic fertilizer granules processing machine configurations for small scale plant
If you plant do not have enough space for equipping with the whole set of machines for making organic fertilizer, it is available for you to choose some key equipment for your plant. While, according to your different requirements on production capacity, we can provide you different specifications of processing machine. Just free feel to send inquiry to us, we will make you satisfied.
Equipment for small scale powdery fertilizer making
The organic fertilizer powder production line is simpler than granules making line. It only needs a crushing equipment for making your composted organic fertilizers into powders. While, using a turner machine, the composting efficiency will be higher. Besides, we also provide powder bagging machine for your commercial production.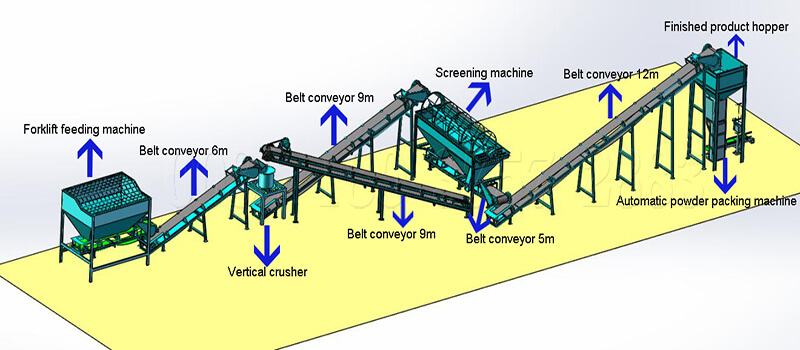 What is the approximate budget for organic fertilizer business operating?
Operating your own organic fertilizer manufacturing plant, there are 3 important factors which you should consider. Firstly, you should rent a factory for setting the fertilizer machines. And then it is necessary for you to prepare suitable raw materials for manufatcuring. Besides, it is important for you to selecting a set of high quality organic fertilizer processing machines.
The factory scale
If you want to have a large scale factory, you must select a large area. Then the cost of factory site will be high.
If you only want to operate a small scale company, the cost will be lower than a large scale plant.
Costs of the raw materials
If you have a farm, or an animal farm, or some other factories which can provide you organic materials, you can use the agricultural waste and animal waste as materials for your organic fertiliser production company. Or, you can also buy materials from others.
Costs on the organic fertilizer production equipment
The equipment is indispensable for fertiliser manufacturing. A complete organic fertiliser production equipment will bring you good effects. We can provide you high qualified organic fertiliser production line equipment. What's more, both our company and our factory have professional and responsible service team. We can provide you good service for pre-sale service, on-sale service and after-sale service. Choosing Shunxin, you will get high qualified equipment at preferential price, with best service.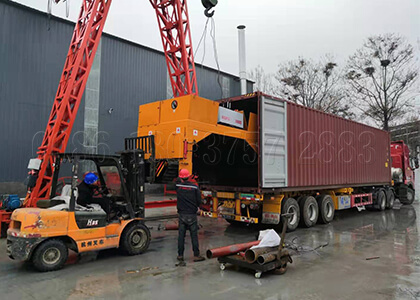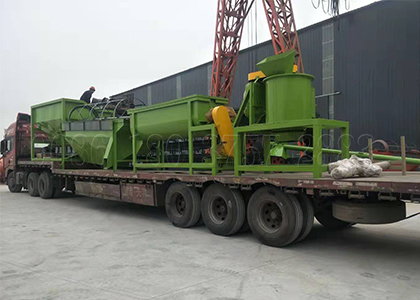 Utilization of organic fertilizer production technology for sustainable agriculture
With increasing demands on better environment, many countries in the world pay attentions on sustainable development. Ecological agriculture plays a key role in this social development form. Ecological agriculture means green food, less environment pollution and less soil pollution. To realize the ecological agriculture, it's necessary to use organic waste fertilizer instead of chemical fertilizers.
This fertilizer is rich in nutrients, helpful for improving the soil condition and has no soil pollution. Especially, it avoid the food being unhealthy because of the chemical elements. Comparing with other fertilizers, it is suitable for the sustainable agriculture. Moreover, it recycles wastes as fertilizer, not only contributes to the development of ecological agriculture, but also the development of sustainable sources.
Shunxin fertilizer machinery can provide different types of organic fertilizer lines for you. It's applicable for you to produce organic fertilisers with various materials, such as cow dung fertilizer making, chicken poo organic fertilizer producing and so on. Producing these types of fertilizers can bring you both ecological efficiency and economic effectiveness. What's more, governments are supportive of organic fertilisers manufacturing.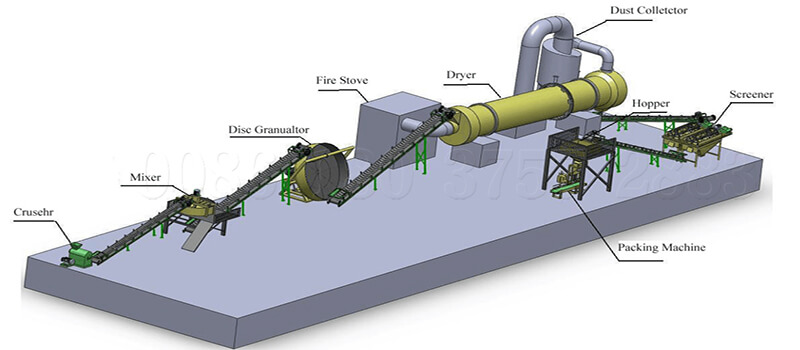 What materials you can use for organic fertilizer manufacturing?
With the development of society, there are much organic waste, which can be used for making organic fertilizers. Organic fertilizer is a good fertilizer for improving soil conditions and it can also provide nutrients for plants growing. Here are some suggested organic wastes for you to make organic fertilizer.
Manure management for organic waste fertilizer making
Manure is good material for making organic fertilizers. All the animal feces are rich in organic matters and nutrients for plant growing. Here is some main animal manure for organic fertilizer making.
Livestock waste. Livestock waste is main organic source for making fertilizers. It is rich in organic matters and many nutrients. While, the different livestock waste has different nutrients. For example, if you use pig litter as materials for making organic fertilizer, there will be much humus and waxiness after the composting. Moreover, it will be helpful for drought resisting.
Poultry waste. Poultry mainly includes chicken, duck, goose, etc. Their waste have more organic matter than livestock waste. Chicken waste is a key material for making organic poultry manure fertilizers. It has high availability. However, it is necessary for you to make a compost before you use it. After your composting, it is applicable for you to use them as topdressing. You can use it for growing vegetables, fruits, tea, mulberry, tobacco and so on.
Earthworm fertilizer. Earthworm litter is a good fertilizer for making organic fertilizer granular. Meanwhile, it is also suitable for you to use for improving the soil conditions.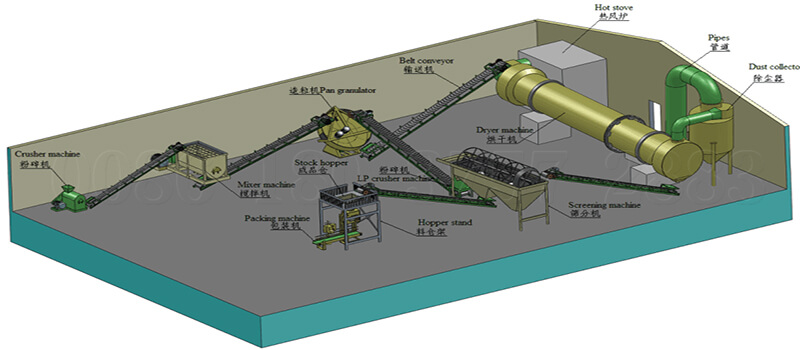 Cow dung is a good raw material for making organic fertilizers. However, there are many farmers who do not know ...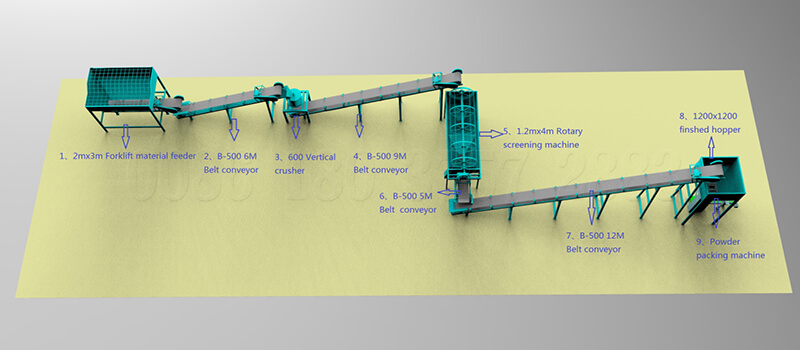 Are you looking for a machine to turn the animal manure into fertilisers? An organic fertilizer manufacturing equipment can help ...

Straw added for speeding the organic fertilizer composting
China is an agricultural country. There are much agricultural crops and the straw is a great waste. It is a good choice for you to make fertilizers. Meanwhile, if you blend straw with organic animal manure for making organic fertilizer, the effect will be better.
Q&A
For forming a whole organic fertilizer machines, there must be many questions for these machines. Here we provide you some FREQUENTLY ASKED QUESTIONS in our clients cases.
Question: How many workers do I need for the whole organic fertilizer production line?
An owner of chicken farm from India
Answer: Generally speaking, for your 1 ton per hour fertilizer production plant, it needs about 4 to 7 workers. One for the compost turner. And for packing the finished products, there should be two workers. One for packing, and one for sewing. Besides, for drying the pelleted organic fertilizer, there is a hot stove for supplying hot air to dry granules. And if you use coal as heat source for hot stove, you also need a worker for putting coal into the hot stove. For your information, it will be better for you to arrange 2 or 3 workers for stand-by.
Ellie Liu
Questions: How many hours per day can your equipment work?
A Turkish customer who has an organic fertilizer plant
Answer: As a rule, the whole organic fertilizer production machines can work 20 hours per day. While, it is adjustable for your own fertilizer production capacity. For example, for your 1 ton per hour fertilizer manufacturing, it only needs to work 8 hours or 10 hours per day. If you want to produce organic fertilizer granules with high production capacity, it is also applicable for you to equip with some large scale production machines. Or you can also contact us, we can provide you the best resolutions and the suggestions for your fertilizer production requirements.
Andy Wang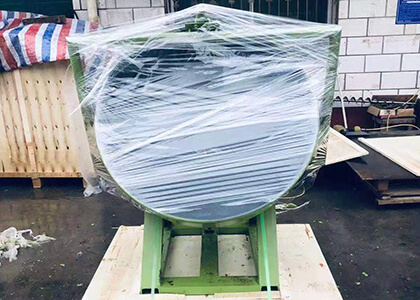 Question: How do I install all the facilities for the whole organic fertilizer production line?
A manager of fertilizer company in North Africa
Answer: For installation, it is a huge project. The basic equipment you should prepare are crane, basic welding and cutting tools, etc. for installation.
The crane is mainly used for lifting the organic fertilizer machines for setting them into the right places. Because of the transportation requirements, the machines are cut or welded. The basic welding and cutting tools are necessary for the installation. Besides, for feeding the raw materials into machine, you had better prepare a forklift. With a forklift, you can feed the materials through the feeding machine conveniently.
These are foundations you should prepare for the installation. If you have any other questions or requirements for the installation or machine, contact us and then we will help you solve them.
Kiko Chen
Our engineer helps our customer install the organic fertilizer production line
Question: Is the drying machine and cooler necessary for my organic fertilizer production? Can I leave the bags open for a few days for drying them?
A customer in Bangladesh
Answer: After the granulating, the moisture content of finished pellets is about 20%-25%. And the temperature is about 40 ℃. If you bag them directly, it will influence the quality of organic fertilizer granular. Because the high moisture will make the granules loosen.
For your small scale organic fertilizer granular manufacturing, it is OK for you to dry your pelleted fertilizers under the sun. Generally, 3 to 5 days later, the granules will be suitable for you to pack. While, for your large scale organic fertilizer pellet production plant, equipping with a dryer and cooling machine will improve your production capacity. The drying machine can dry your finished fertilizer pellets efficiently. And then the cooler will lower the temperature and take the water content of your pellets away. You can get well processed granular organic fertilizers quickly.
Jane Yang
Organic fertilizer drying and cooling equipment installs for our customer
Question: How much area do I need for my 6 ton per hour organic fertilizer manufacturing plant?
An organic fertilizer supplier in Pakistan
Answer: If you equip with the whole machines for making organic fertilizers granules, it will takes you about 5000㎡. The whole machines include composting machine, crusher, mixing equipment, granulator, drying machine and cooler, screener equipment and the bag filling machine. It can be divided into two parts, the composting and granules making. And the composting area will take you about 1500㎡. And the organic fertilizer making area needs about 2000㎡. Besides, you need to have about 1000㎡ for placing your finished products.
While, these data are not exact. According to your plant scale, production capacity requirements and the budget, we will provide you the best solutions. And it is alternative for you to choose the different equipment configurations. Thereupon, the floor space will be different, too.
Jenny Cao
Want to get fertilizer equipment configuration, which is suitable for your own factory? We will provide you the best solutions.
Question: How long can your rotary screening mesh work? Should I change it often?
An Australian customer
Answer: Generally, it should be changed about half a year. Because it is vulnerable parts of rotary screening machine. You can buy it separately or locally. While, for your organic fertilizer production line, it is available to provide you spare mesh free.
Frank Liu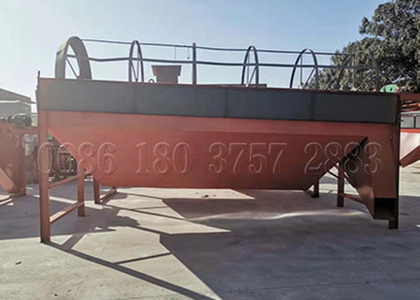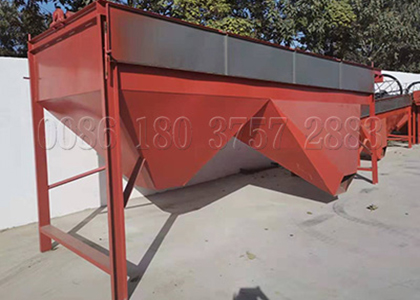 Question: How much are your hot stove and dust chamber?
A fertilizer manufacturer in Russia
Answer: The hot stove is mainly used to supply hot air for drying machine. Using this machine, it can help you dry pelleted fertilizers well for better transporting and storing.
The function of dust chamber is collecting the dust generated during the granulating process. This machine can collect them well for better environment.
While, it is applicable for you to build them by yourself. Because it costs too much if we ship them to you. And for helping you build them conveniently, we will send detailed drawings to you. Meanwhile, if you need, it is suitable to mail you the videos and we can also use online video for guiding.
Jane Yang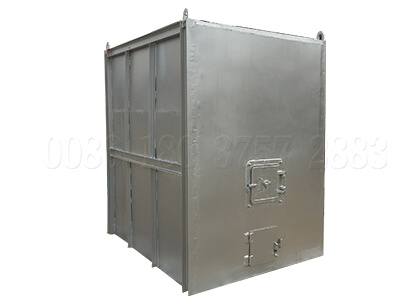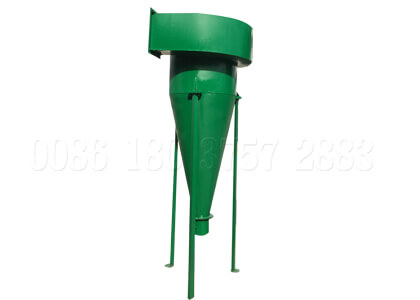 Question: After drying, what is the heat of dried organic fertilizer pellets?
An organic fertilizer plant
Answer: Generally, the drying machines uses hot air stove for providing hot air. And then the hot air will be about 300-500 degree. After the drying, the temperature of fertilizer granules will be about 60-70 degrees. It is too high to pack or process directly. Thus, we provide you rotary cooling machine for lowering the temperature. This machine works same as dryer, but it needs cool air for cooling. It is key in fertilizer pellets processes.
Casey Gao