Disc pelletizer is the ideal granulating machine for manufacturing organic fertiliser and complex fertilizers. You can use it to granulate powdery raw materials into pellets. It plays an important role in the fertilizer production line, whether the organic fertiliser production line or NPK compound fertilizer production line. Especially, if you want to make the fertilizer granules better, there are other machines for processing them better.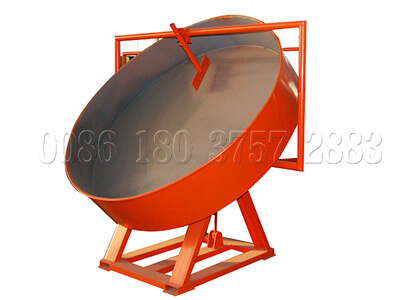 Disc fertilizer pelletizer for sale
Model: SXYZ-600(can be customized)
Diameter of Disc(mm): 600
Edge Height(mm): 280
Dimensions(mm): 800×700×950
Capacity(t/h): 0.05-0.1
7 attractive advantages disc pelletizer can provide you
The raw materials are easy to get. If you have a chicken farm or cattle farm, you can use disc organic fertilizer granulator to produce organic fertilizer with the animal manure. Other materials including human waste, agricultural waste and so on are applicable for disc granulating machine. Especially, you can also use it for making bentonite granules.
This disk pelletizer improves the production efficiency of your plant. The disc granulating machine has 3 outlets which can work continuously. The ceaseless work of 3 outlets improves the average production capacity.
By using this granulator equipment, you can get high economic efficiency even though you invest less. This disc fertilizer granulator machine can save about 30% cost than other fertilizer machine. Moreover, it not only can manufacture organic fertilizer, but also compound fertiliser. You can use one machine to get various fertilizer with different raw materials.
You can get uniform pellets by using a disk granulator. The granulating disc processed with unique technology and 90% pellets diameters are between 3mm to 5mm.
Disc granulating machine is friendly to the environment. It adopts wet granulation method, reducing the dust pollution.
This pelletizer has the highest granulation rate which can reach 95%.
It is convenient for you to change the granules diameter, because its disk tilt angle is adjustable.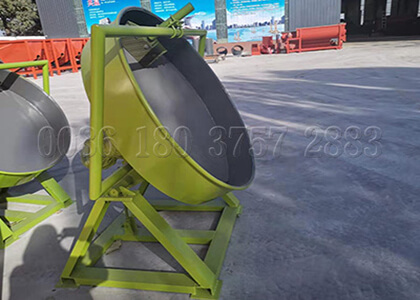 Disc granulator equipment for sale
Model: SXYZ-2500(can be customized)
Diameter of Disc(mm): 2500
Edge Height(mm): 450
Dimensions(mm): 2900×2000×2750
Capacity(t/h): 1.5-2.0
Why does disc pelletizer have long service life?
We use durable materials to prolong service life of the machine, and all the materials pass the quality test of China. What's more, we adopt advanced pan granulator design to make sure its stable running.
The pot lining is made of high strength, corrosion-resistant plastic glass.
The disc is sturdy and durable which is made of sturdy iron material.
The base is sturdy because we employ stable base design.
The belt transmits flexibly, and the reduction gear and electric motor runs steadily. These decrease the impulsive force and prolong the machine's service time.
High frequency hardening of granulator main gear also doubled the service time.
This disc granulator machine has long service time and you don't need to worried about it. If you have any questions about the warranty period, you can contact our customer service center.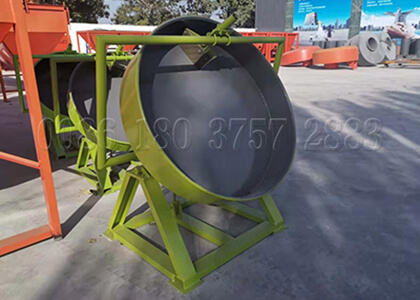 plate granulator for Indian customer
Model: SXYZ-2500(can be customized)
Diameter of Disc(mm): 2500
Edge Height(mm): 450
Dimensions(mm): 2900×2000×2750
Capacity(t/h): 1.5-2.0
Simple structure of disc pelletizer contributes to operate and maintain easily
Disk granulator consists pelleting disc, gearwheel, drive part, body frame, base, doctor holder, and powerless scraper. However, it is easy for you to operate because there are only three parts you need to control.
The driving part: When the driving shaft runs, the belt pulleys drive the whole machine because of the friction. So you should repair the belt and check the lubricating oil of the gearwheel.
The pelleting disc: The pelleting disc is the most important to granulate materials. The faster the speed, the higher the working efficiency. But you'd better control the disk inclination reasonably to make the pellets in good appearance.
The scraper: The scraper installed on the top of the pelleting disc. It protects the material from sticking on the disc wall and also cleans the disc regularly.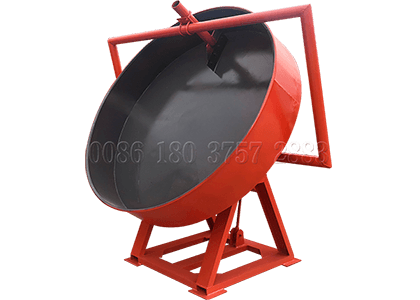 disc pelletizer for sale
Model: SXYZ-600(can be customized)
Diameter of Disc(mm): 600
Edge Height(mm): 280
Dimensions(mm): 800×700×950
Capacity(t/h): 0.05-0.1
How does disc pelletizer process chicken manure powdery materials into specific granules?
After crushing the fermented chicken manure into powders, the disk pelletizer can make them into specific granules. The pan granulating equipment uses wet granulation methods for granulating. You can add some liquid for improving the adhesive force, so that the powders can rotates in the pelleting disc and becoming round balls. It uses the centrifugal force for rotating. The granular chicken manure will be out from the bottom of disc. What's more, because of the scraper, it reduces the waste of materials. At the same time, the flanged edge of disk section avoid the pellets broken.
Video about the disc pan fertilizer granulator pelletizing process
Tips for you to keep disc pelletizer working better
Disc pan granulator equipment is a key equipment in organic fertilizer producing. Troubles on machine are unavoidable. If you don't solve it in time, it will be worse and has bad consequence on production. We provide you some simple operations about how to solve the troubles and you can fix the machine by yourself.
The most common troubles you may meet is that the mainframe current is unstable. You can solve it as following: Close down the machine and check the feeding port, mainframe and the bearings. Then check the heater of different parts to make sure whether they are in normal operation or not.
If you find the production capacity is low and even the machine is blinding, it may be caused by the moisture. Rising the temperature contributes to the aging of materials. As a rule, the moisture content of materials may increase by 1% if the temperature rise by 11°C.
To keep the machine work well, you'd better check the machine regularly. Clean the inner side of machine and checkup the power source and switch to guarantee the machine can run next time. These operating repairs won't take you much time, however, they are efficient.
If you have other troubles in operation, you can also contact our customer service center. We can provide you professional guidance and the best solutions.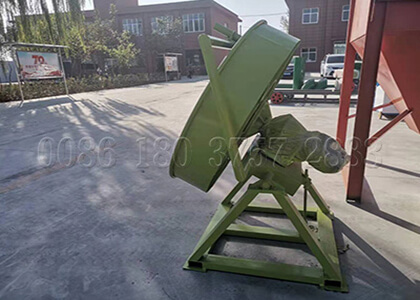 Disk granulating equipment for sale
Model: SXYZ-500(can be customized)
Diameter of Disc(mm): 500
Edge Height(mm): 200
Dimensions(mm): 650×600×800
Capacity(t/h): 0.02-0.05
Equipment recommenditions for forming a fertilizer production line with disc pelletizer
Plate type granulation machine is a key equipment in a fertilizer production line. While, it is necessary for you to equip with some other machines for forming a complete fertilizer production line. Here we have some recommendations for you.
Powder making machines for preparation of granulating
For granulating, it is important for you to make your materials into powder. Whether you are an organic ferilizer manufacturer or compound fertilizer supplier, you had better crush your materials into powder. For your information, if you use more than one material for pelletizing, a mixing machine will be helpful for your fertilizer granulating.
Pelleted fertilizers processing machine for better effects
After granulating, the granules will have high moisture content. You can use a drying machine for lowering the moisture content in your commercial fertilizer production line. Meanwhile, if permitted, it will be better for equipping with a cooling machine. And before your packing, if you want to get fertilizer granules, which are uniform, it is available to using a screening machine.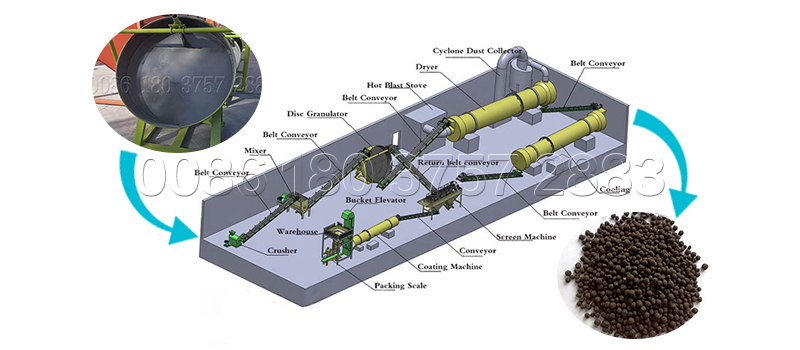 Why does our disc pelletizer have high economic efficiency but cost less?
Shunxin disc granulation machine factory is a professional in fertilizer equipment manufacturing. We produce not only granulator machines, but also complete fertilizers production line. The quality of the fertilizer equipment we produced is complete and all reach and even exceed the national standards. We devote to the production capacity and economic efficiency, doing our best to manufacturing high quality fertilizer equipment.
The machines are from our factory directly so that you cost less on it. Moreover, we try our best to meet all the customers' needs and we also accept customized machines. Whether you want high configuration or low configuration, large scale production or small scale production, single equipment or complete production line, we can customize for you.