Cow dung drying machine is key in cow dung fertilizer making process. Shunxin has two types of cow dung drying systems. They are suitable for different processes. The one is for dewatering the fresh cow dung. It can lower the moisture content of the cattle manure. Besides, there is also another types of drying machine for you to process the pelleted fertilizers. After the granulation, the pelleted organic cow dung may be wet. And then you can use the cow dung dryer for drying the granulated cow dung fertilizers. These two machines are popular among our customers for organic fertilizer granules making.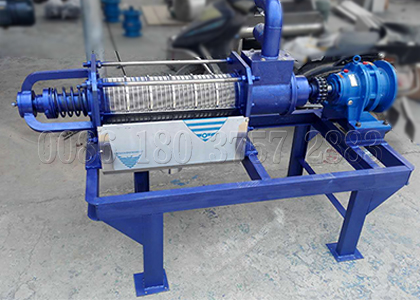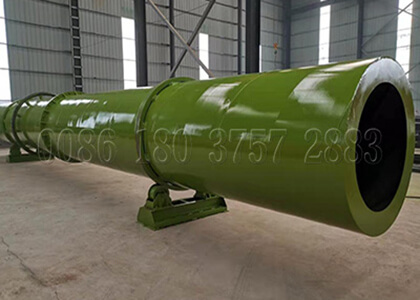 What roles does the cow dung drying machine play in organic fertilizer manufacturing process?
Shunxin cattle manure drying system is widely used for drying the cow dung, pig waste, horse manure, chicken poo and some other animal manures. Then how should you use it in your organic fertilizer making line? What role does it play?
Why use the manure dewatering machine for cow dung fertilizer making?
For composting these cow manure, it is necessary for you to dewater these waste firstly. Shunxin screw press cow dung dewatering machine can help you dehydrate them well. And it can not only be used for disposing cow dung, you can also use it for your chicken manure management, poultry litter processing, pig waste dewatering, etc. Shunxin cow dung dewatering system can separate liquid cow manure water from the solid manure. Then you can get well dehydrated organic cow dung and the moisture content of dried cow dung is adjustable. Meanwhile, equipping with our compost making machine and crushing mahcine, you will get a high-quality powdery cow dung fertilizer making line. FYI: a granulation equipment can help you make high-quality cattle manure granular.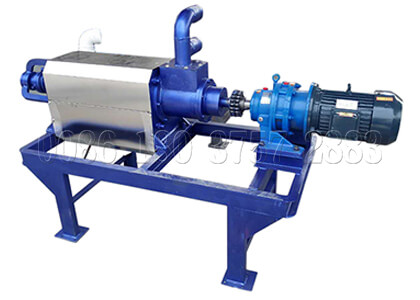 Cow dung dewatering equipment for sale
Model: SX-180
Main Power(kw): 4
Pump Power(kw): 2.2
Voltage(v): 380
Dimension(mm):2020×650×1150
When should you use the cow dung dryer in the whole fertilizer production line?
Generally, for processing the organic cow dung fertilizer granules, the cattle manure fertilizer granulators adopts the wet granulation technology for pelletizing. Thus, the granular fertilizers are wet. And then it is applicable for you to use our dryer machine for lowering the moisture content of granulated fertilizers. Meanwhile, you can also equip with our cooling machine. The cooler can help you lower the high temperature of dried fertilizer pellets.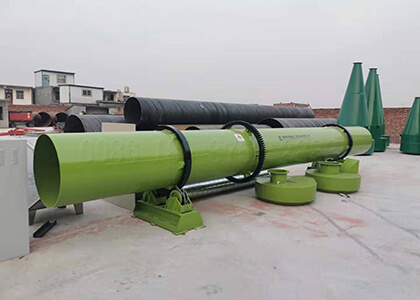 Cow dung fertilizer granules drying machine for sale
Model: SXHG-0808
Power: 5.5kw
Capacity: 1-2t/h
Rotating Speed: 6(r/min)
Installation Angle: 3°-5°
How to use dewatering machine for turning your cattle manure into compost fertilizers?
The cow dung drying machine is composed by the main engine, non-blocking submerged pump, control cabinet, pipeline and so on. And there are engine body, mesh screen, extrusion auger, gear reducer and the discharging device in the main engine. Then how does these components work for dewatering cow manure?
Transport the cow dung manure into the cow dung dewatering system from the non-blocking submerged pump.
Then the extrusion auger will push the high moisture raw materials into the front of machine. Meanwhile, the water will flow from the screening because of the strong pressure. If the pressure is strong enough, the materials will be out from the outlet.
For controlling the discharge speed and the moisture content, we design a balancing weight below the motor. It's applicable for you to adjust it for meeting your dewatering requirements.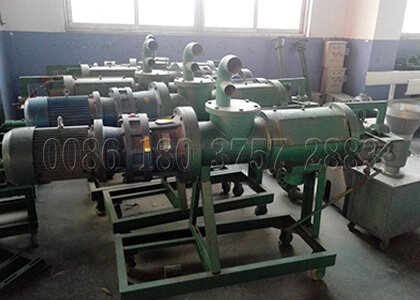 Poultry Manure Dewatering Machine for sale
Model: SX-180
Main Power(kw): 4
Pump Power(kw): 2.2
Voltage(v): 380
Dimension(mm):2020×650×1150
What benefits you can get from the cow dung drying machine?
If you are a farmer who owns an animal farm, equipping with a poultry manure drying machine will bring you more efficiency than before.
Better environment. Using the manure cow dung dewatering machine before putting the manure water into biogas digester, the COD and BOD will be reduced in force. And then it will decrease more waste water pollution, bring you better environment.
More accessory. It's suitable for you to turn animal manure into fish feed and organic fertilizers. For your information, there are many equipment in Shunxin for you to equip with this dehydrating machine for making organic fertilizers. For example, if you want to make powdery fertilizer, you can using a crushing machine after the dehydrating and composting. Then, you can get well crushed fine powders.
Less workload. If you dispose the waste water by animal manure dewatering machine, and then discharge them into biogas digester, it will be helpful for getting rid of the crusting phenomenon. Thereupon, you don' t has to clean the biogas residue.
More economic efficiency. Disposing the animal waste by using the cow dung dewater machine, it can reduce your workload and make your waste into available feed and fertilizers. At the same time, it also decreases the work force and bring you much business opportunity. Besides, Shunxin equipment can provide you complete equipment for making commercial organic fertilizers. What you need is a granulation equipment for making the powdery fertilizer into pellets. And then it is alternative for you to dry, cool, screen and coat the fertilizer granules. Especially, you can use our fertilizer granules packing machine for bagging fertilizer pellets for selling. For your information, we also provides powder packing scales for sale.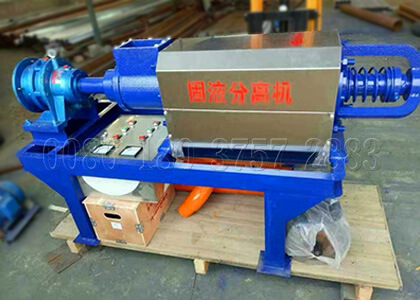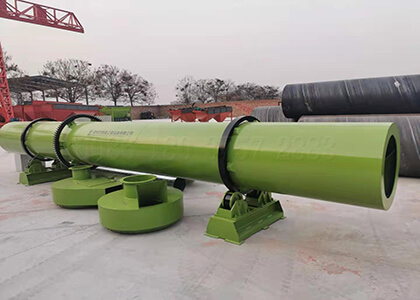 What dehydrating machine can Shunxin provide for your organic manure waste dewatering processing?
Besides the poultry manure dewatering machine, Shunxin also has another types of dewatering machine for your reference. This type of solid-liquid separator machines is also suitable for drying the organic manure. You can use it for separating residue-liquid of fresh manure waste. The separated manure can be used for making organic fertilizers and biogas power generation. What's more, you can use it before organic waste composting. Compared with another type dewatering machine, the sieving type dehydrating equipment is more suitable for the pig waste, whose moisture content is large. And generally, the sieving type has larger output than the other one.
When you use submerged pump for pumping the manure from tank, the manure will achieve the top of dewatering equipment from bottom. And then the materials will flow to the auger from oblique screen. The spiral auger and screen can stir, pressing and separating the solid and liquid.
Shunxin dewatering systems are combined with the transporting, pressing, dewatering and regretting. Equipping with this machine, you do not need to worry about the intertwining of rubbish. And its Automatic level control can save your power consumption. Meanwhile, we employed special materials, improving its resistant to corrosion, prolonging its service lifetime.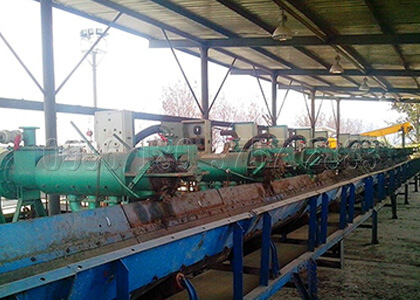 Organic manure waste dewatering machine for sale
Model: SX-800
Main Power(kw): 3.0
Pump Power(kw): 1.5
Vibrating power(kw): 0.04
Voltage(v): 380v
Dimension(mm):1880×1450×1430
How can you make the cow dung dying machine serves for a longer time?
The maintenance is key in prolonging the machines' service lifetime. Meanwhile, if you don't maintain it well regularly, it may cost you much on the repairment. What's more, daily maintenance can avoid slowing your production efficiency. Shunxin provides you some tips for making the manure dryer equipment work for a long time.
Cleaning: Cleaning the chicken manure drying system is a necessary thing. You'd better cleaning the inner and the manure dewatering machine surface often. And make sure that there is no oil in the sliding surface, lead screw, rack, gear box and oil hole.
Ordering: Put the tools, attachments and workpieces in order.
Lubricating: It is essential for you to add and change lubricating oil often. If the oil is not enough or you do not change it in time, the machine will not work normally.
Operating based on the rule: The wrong operation will make the machine break down as well. It's important for you to operate the machine according to the rules. You'd better not overload the machine and if you find potential safety hazard, get rid of it immediately for better running.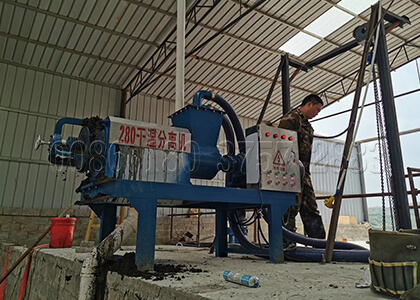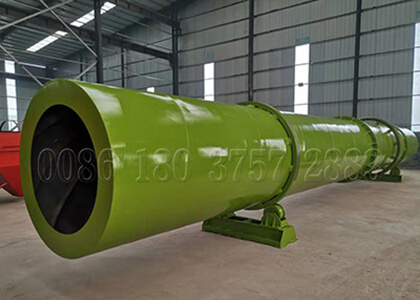 Why choose Shunxin cow dung drying machine for processing fresh cow dung?
With the development of farming enterprises, there are more and more manure waste, which is a great pollution for the environment. Many farmers get rid of the animal waste by washing them directly. However, it wastes too much water. And the biogas difester cannot deal with this problem well. Because putting manures into biogas digester directly will increase the organic loads. What's more, the residues may decrease the tank capacity. If you use the solid-liquid separator machine, this problem will be eliminated well. At the same time, you will get more economic efficiency and it is also helpful for improving the environment. For your different requirements, Shunxin manufactures manure dewatering machine and cow dung drying machine for your reference. For your information, this soild-liquid separation machine can not only be used for dewatering animal manures for making fertilizers, but also can be used for dewatering some other things, such as ddgs, distillers grains.
Why Shunxin?
Practicability. Shunxinchicken manure dryer machine has high separating speed. It is suitable for large scale cattle farm, pig farm. Especially, the separated feces are convenient for transporting. Moreover, you can also use it as materials for making fish feed and organic fertilizers.
High performance. It has strong decontamination ability. You can clean it easily. And the dried manure has high applicability on making organic fertilizers.
Durability. Shunxin employs nickel alloy steel and High strength stainless steel on screen and auger. Using these materials, the machine's corrosion resistance and service lifetime will be highly improved.
Economic efficiency. Shunxin cow dung drying machines are automatic and need less electric consumption.
How does the manure dewatering machine lower the moisture content of organic waste?
What is the cow dung drying machine price?
For your cow dung drying, there are cow dung dewatering machines and cow dung fertilizer dryer for you to choose. These two types of drying equipment are different in not only the processes, but also the price.
Generally, for your small scale fresh organic cow dung dewatering, the screw press solid liquid separator is more suitable than dryer. Moreover, it is more economic than the cow dung drier machine. Meanwhile, after the dewatering, you can compost them and using them as fertilizer directly. It reduces your cow dung fertilizer manufacturing cost.
While, for your large scale commercial cow dung fertilizer granules making machine, you should equip with the cow dung dryer. With this machine, your can dry the pelleted  cow dung granules efficiently for commercial use. There are different specifications for your reference. And the price are different, too.
According to your different cow dung fertilizer making requirements, we can provide you various fertilizer making equipment with professional suggestions. Besides, you can also choose different equipment configurations for your preference. And you can get the best price in Shunxin.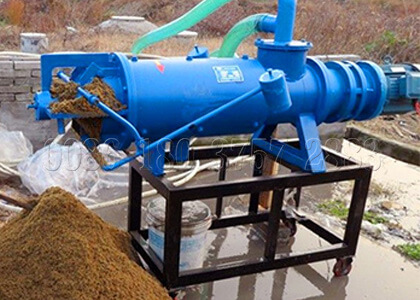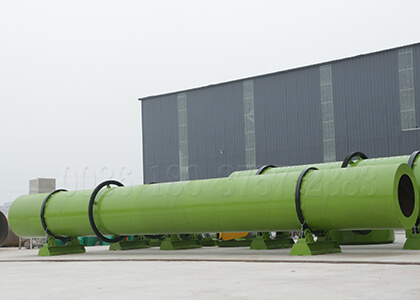 Q&A for Shunxin organic manure solid liquid separating machine
Q: What is the production capacity of your dewatering machine?
A cow farm owner in India
Answer: Generally, this SX-180 can process 8m³ to 15m³ per hour. And the output production capacity of solid materials is about 1.5m³ to 3m³ per hour. Meanwhile, what you need to know is that the moisture content of the raw organic materials should be above 50%. And after the dewatering, the water content will be about 30%.
Ellie liu
Shunxin slant sieving organic manure waste dewatering equipment working
Q: What should I do for operating this dewatering machine?
An organic fertilizer manufacturer from Kenya
Answer: It is easy for you to operate it. There is an electric control cubicle for you to control this machine. What you need to do is plugging in. And then the solid-liquid separator will dehydrate your materials automatically. Besides, we will send a video about the operation of machine for you. If you have any problems or doubts about the machine when operating, we will always be here for helping you solve it.
Jane Yang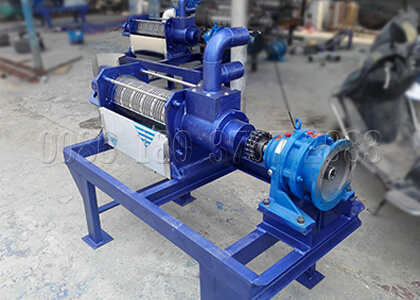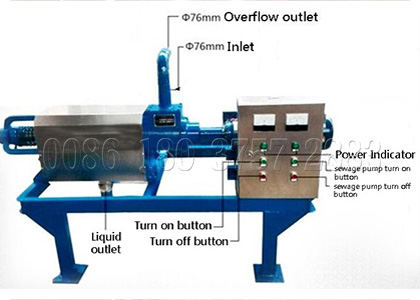 Q: How can I deal with the dehydrated cow dung?
An Indian customer
Answer: After the dewatering, it is suitable for you to compost the solid cow dung for your own crops or making profits. There are compost making machines in Shunxin for your commercial fertilizer manufacturing. It can help you finish composting in a short time. Meanwhile, you can also make composted cow dung into high-quality powdery fertilizers with crusher, screening machine and packing machine. Besides, it is also available for you to process them into organic fertilizer pellets.
Sam Song
FAQ about the cow dung dryer in organic cow dung fertilizer granules processing machine
Q: What are the differences between the dried cow dung fertilizer pellets and undried granules?
An organic fertilizer plant
Answer: Generally, using cow dung as materials for making fertilizer granules, the granulation machine usually adopts wet granulation technology. Thus, whether the raw materials before granulation or the pelleted organic fertilizers are wet. While, the wet granules is not suitable for both transporting and storing. What you need is a cow dung dryer for drying these pelleted organic cow dung fertilizers. After drying, the moisture content will be lowered. And it will be more convenient for you to pack or transport.
Kiko Chen