Fertilizer dryer is a machine for drying pelleted fertilizer. It can not only dry fertilizer granular, but also can dry fresh animal waste, such as cow dung, chicken waste, horse manure, poultry waste, etc. This machine utilizes aeration-drying technology for lowering the moisture content of materials. Our company rotary drum drying machine employs advanced designs for making your drying process more efficient and convenient. Especially, we can also provide you professional suggestions, machines at favorable price.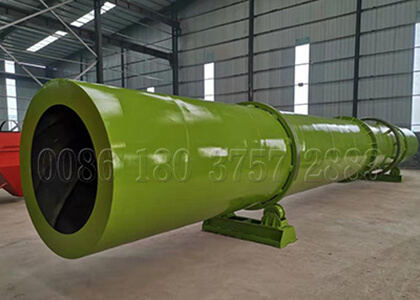 Fertilizer dryer for sale
Model: SXHG-0808
Power: 5.5kw
Capacity: 1-2t/h
Rotating Speed: 6(r/min)
Installation Angle: 3°-5°
What drying technology does the fertilizer dryer use?
Fertilizer dryer is a key equipment in fertilizer production line. It can dry pelleted organic or compound fertilizer well. Drying machine utilizes aeration-drying technology for drying materials. Our rotary drum dryer takes advantages of hot blast furnace for supplying air. The hot air will dry the materials inside the cylinder. Meanwhile, the rotating cylinder will make the drying effects better. Then the materials will be dried evenly. For your information, using a rotating drum dryer, you can use oil, gas, bio-mass and coal as fuel for supplying air. What's more, you had better control the drying temperature well. At the same time, the temperature requirements will be different because of the different materials' properties.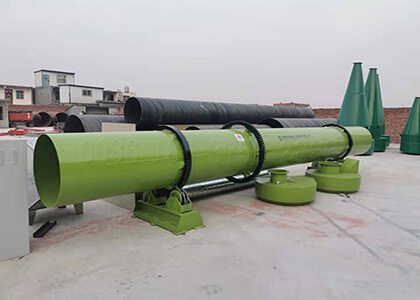 Aeration-drying rotating dryer for sale
Model: SXHG-1010
Power: 7.5kw
Capacity: 2-4t/h
Rotating Speed: 6(r/min)
Installation Angle: 3°-5°
Fertilizer dryer, good promoter in your organic fertilizer production line
An organic fertilizer production line includes 5 part: fermentation, preparation for granulating, pelletizing, pelleted organic fertilizer processing and packing. While, what is the role of organic fertilizer dryer? It is a process for making pelleted organic fertilizer better. Here you can see how does it work for processing fertilizer granules.
After the granulating, the granules will be in a high temperature and moisture content. Because the organic fertilizer granulation machines all uses wet granulation technology for pelletzing. At this time, you need a fertilizer drying machine for lowering its moisture content.
Generally, it often be used with a cooling machine. After the drying, there will be many droplets on the surface of dried organic fertilizers granules. What's more, the temperature of organic fertilizer granular will be high. And then the cooler will not only lower the pellets temperature, but also cool these droplets. Finally, you can get well processed organic fertilizer pellets.
For your information, you can use it for your cow dung organic fertilizer production line. And it is also an important machine in compound fertilizer production process. Especially, when you use pan granulation machine, wet stirring granulator and drum fertilizer pellet machine for granulating, this drying machine will help you make pellets in a better status.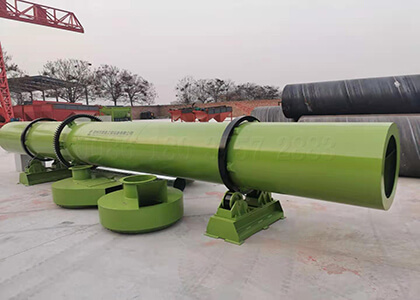 drying machine for organic fertilizer pellets making for sale
Model: SXHG-1515
Power: 11kw
Capacity: 4-6t/h
Rotating Speed: 6(r/min)
Installation Angle: 3°-5°
What are smart rotary drum dryer designs do we use for high drying efficiency?
Our rotary dryer consists of heat resource, feeding machine, rotating cylinder, transmission, discharging device and induced draft fan. We use advanced concept on designing, making the roller dryer works better.
We use flange for connect the cylinder for rotating stably and better.
There is a jockey pulley, which support the whole cylinder. Meanwhile, it also drives the cylinder for rotating by the transmission gear.
For making the fertilizer dryer run better, our cylinder should be installed aslant. This design makes the materials dried more evenly. Meanwhile, it will be more convenient for discharging the finished products.
Both our feeding and discharging devices adopt barriers. These barriers avoid materials overflow.
Especially, our transmission device employs reasonable design, which can adjust the speed easily and conveniently. You can adjust the rotating speed according to the requirements of different materials.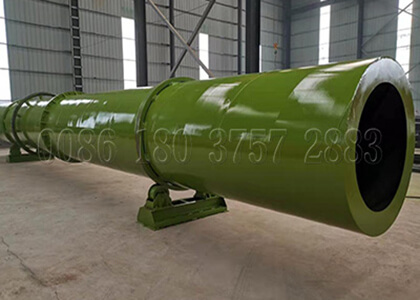 Rotary drum dryer for pelleted fertilizers drying for sale
Model: SXHG-1818
Power: 22kw
Capacity: 7-12t/h
Rotating Speed: 5.8(r/min)
Installation Angle: 3°-5°
Drum dryer working principle
The fertilizer dryer is a popular machine in not only fertilizer making process, but also animal farm. It can not only dry granulated fertilizers, but also fresh organic animal waste. It can dry has high moisture content organic manure to 13%. And then you can use these materials for making feed, transporting, storing and even selling. Then do you know how does it dry material?
When you use a bucket elevator for feeding materials from the feeding device, the materials will be flowing inside the rotating cylinder because of the gravity. Meanwhile, the induced draft fan will send hot air to cylinder for heat exchanging with wet materials. For your information, the hot blast furnace supplies hot air to dry. The hot air will flow from bottom to the top. And it will send heat to materials by heat conduction, convection and so on. Then the materials will be high temperature. Meanwhile, the water will become droplet on the surface of pellets. Finally, the well dried materials will be out from discharging port.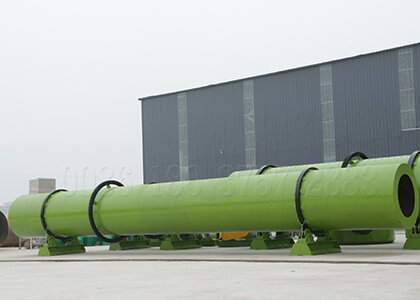 16 ton per hour drum drying equipment for sale
Model: SXHG-2222
Power: 37kw
Capacity: 8-16t/h
Rotating Speed: 5.5(r/min)
Installation Angle: 3°-5°
How to find perfect-match companies that sell fertilizer drying machine?
If you are looking for a fertilizer dryer, it is important for you to find an experienced fertilizer equipment manufacturer. Meanwhile, it will be better if the fertilizer drying machine supplier has its own factory. That means you can not only get high-quality equipment, but also factory price.
Zhengzhou Shunxin Engineering Equipment Co., Ltd. will be a good choice for you. We have been making fertilizer machines for many years. Our fertilizer making machines are manufactured by our own factory. What's more, our engineers have professional and advanced knowledge for making high-quality fertilizer machines. Especially, we can also customize your own fertilizer equipment. Whether you want to buy a fertilizer drying machine for your large or small scale fertilizer manufacturing, we can meet your needs. Meanwhile, according to your different materials, we can recommend the most suitable machines for you.