Fertilizer granulator machines are usable for making fertilizers granular. You can use it for both organic fertilizer production line and complex fertilizers production line. Zhengzhou Shunxin Engineering Equipment Co., Ltd.  has various pellet mills and you can use them for making different types of fertilizers. You can use new organic fertilizer granulator machine to make pure organic fertilizers, while the roller press machine is applicable for producing compound fertilizer. What's more, this compound fertilizer granulating machine employs dry granulation method. Meanwhile, we also provide you granulation machines which can be used for making both compound fertilizers and organic fertilizers, disc pelletizer and drum pelletizer.
How to get fertilizers in granules type by using fertilisers granulator machine?
The granulator machine mainly granulate the materials by 2 methods, and you can get fertilisers granules with both dry granulation process and the wet granulation process.
Dry granulation process. This process takes advantages of the crystal water of the raw materials. Furthermore, it makes them into large tablets because of the great extrusion force. Then the crushing room of the machine will crush the tablets into shaped pellets.
Wet granulation process. If you use wet granulation machines to make pellets, you need to add binders or liquid to increase the adhesiveness of the materials. Then the raw materials will rotate into pellets because of the centrifugal force.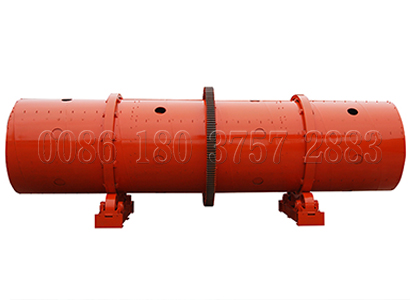 Fertilizer granulator machine for sale
Model: SXZGZ-1870(can be customized)
Power(Kw): 15
Diameter(mm): 1800
Length(mm): 7000
Installation Angle: 2-5°
Capacity(t/h): 5-8
Recommendations for pelleting machine
We manufacture various fertilizer granulator machines to meet your different fertilizer production requirements. Here we can recommend you some types of granulator equipment:
New organic fertilizers granulator machine for making pure organic fertilizer
This organic fertilizer granulation machine is manufactured for organic fertilizer production. It adopts wet granulation method, and it granulate pellets by great mechanical agitation and the resulting aerodynamic force. Especially, you can use it for granulating with fermented materials, while you don't need to dry them before granulation. Moreover, the fertilizer pellets made by it have high organic content, as high as 100%. If you want to make pure organic fertilisers, this fertilizer granule machine can bring you best organic fertilizer pellets.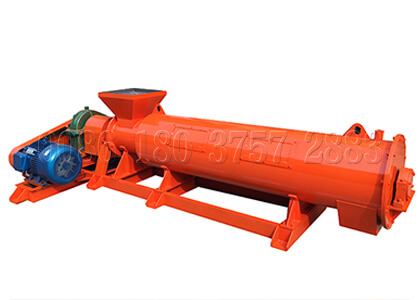 Organic fertilizer granulating machine for sale
Model: SXJZ-1200(can be customized)
Installation Angle: 2°-2.5°
Moisture of Feeding Materials: 20%-40%
Size of Feeding Materials: 50 mesh
Dimensions(mm): 4900×2550×1800
Capacity(t/h): 4-6
Roller extrusion granulator with dry granulation method
This double roller press machine is the only machine which uses dry granulation method to make compound fertiliser. Wet granulation method granulates pellets by their cohesiveness. However, you don't need to add binder or other liquid to increase its cohesiveness by using this machine. It makes compound fertilisers granules by great extrusion force. Furthermore, the shapes of these pellets are alternative.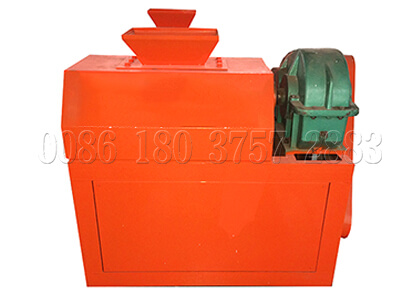 Roller extrusion fertilizer granule machine for sale
Model: SXJZ-2T(can be customized)
Granule Diameter(mm): 3-10
Roller Sheet Size(mm): 185×300
Dimensions(mm): 1630×850×1650
Rotary drum granulator machine for large scale fertilizer production
Shunxin fertilizer granulator machine manufacturer has large output machines for your large scale fertilizer production, rotating granulators. This type of granulating machines has great production capacity. It can reach 30 ton per hour. Meanwhile, it is a key equipment in compound fertilizer production line. Moreover, you can also use it for manufacturing organic fertilizers, too.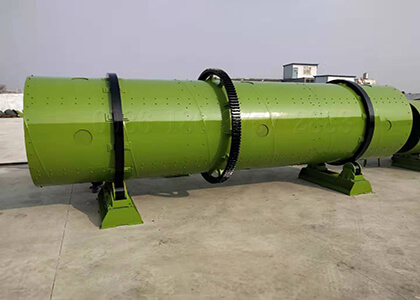 30ton fertilizer granulator machine for sale
Model: SXZGZ-3210(can be customized)
Power(Kw): 37
Diameter(mm): 3200
Length(mm): 10000
Installation Angle: 2-5°
Capacity(t/h): 15-30
Pan pelletizer for laboratory use
It is the most popular machine among our customers. You can adjust the disc tilt angle to change the pellets diameters according to the effects of finished pellets. It has 3 outputs, which can realize your constant production requirement. It can also be used for producing both organic fertilizer and compound fertilizer. Especially, you can use it for laboratory. Its smallest size can realize your lab requirements.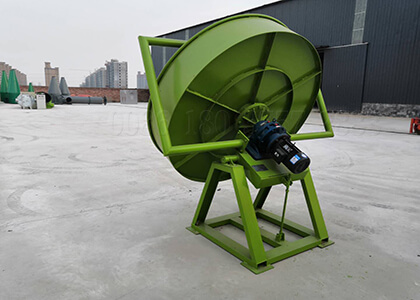 Laboratory use pan pelletizer for sale
Model: SXYZ-500(can be customized)
Diameter of Disc(mm): 500
Edge Height(mm): 200
Dimensions(mm): 650×600×800
Capacity(t/h): 0.02-0.05
How to make your own pellet fertilizer from horse manure by using fertilizer granulator machine?
If you want to make fertilizers with horse manure, you can use a pellet making machine. However, you could not make pellet fertilizer with horse waste directly. Before the fertilizer granulation process, you should do some preparations.
Composting. Composting is the first step for manufacturing organic fertilisers. The unfermented horse manure is not able to be used for granulating. There are toxic substances if you don't ferment the horse waste firstly. You can use our composting equipment to compost. We can provide you groove type composting making machine, crawler type compost turning equipment, moving type compost windrow turner and so on.
Crushing. You can use our crushing machine to crush them into powder for granulating. We have semi-wet material crusher, hammer crusher, new type vertical crusher and other types of crusher to meet you needs.
Screening. The screening machine is used for sieving the powder materials and pellets materials. Then the crushed materials can be screened into powders and large pellets. Then you can send the pellets into granulating machine, while the large pellets screened by the screening machines can be re-crushed.
Granulating. You just need to put powder materials into the pelletizing equipment, and then the fertilizer pellet mill machine will make them into fertilizers granular.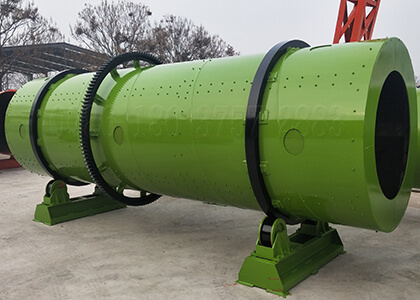 High ouput drum type granulating machine for sale
Model: SXZGZ-3210(can be customized)
Power(Kw): 37
Diameter(mm): 3200
Length(mm): 10000
Installation Angle: 2-5°
Capacity(t/h): 15-30
Design and fabrication of pelletizing machine
Shunxin fertilizer pellet making machine factory manufactures the fertilizer granulator machines with advanced design and high quality materials.
The design
The wet granulation equipment uses centrifugal force to granulate. While the dry granulation facilities granulate with extrusion force.
The disc granulating machine has adjustable disk tilt angle, and this design can make you granulate conveniently. Moreover, the scraper also makes the granules good appearance.
When you use new organic fertilizer dedicated granulator facility, you can adjust the length of stirring gears according to your needs.
We install a gearbox to cooling the temperature of double roller extrusion granulator. This design makes it work well at room temperature.
The fabrication
All the materials of the granulation equipment are high quality.
We use special rubber for the liner of machines. These can make sure the materials not stick on the wall.
We use high qualified U-steel on bases for making the machine run stably.
The details employ wear-resistant materials to prolong their service life.
All the materials for making machines can be customized. If you have interests, contact us to know the details.
Where to buy molding machine for organic pellets?
Zhengzhou Shunxin Engineering Equipment Co., Ltd. is a professional fertilizer granulator machine manufacturer. We devote ourselves to manufacturing high qualified fertilizer making machines, and we also have our own factory. Our company have sold lots of equipment for both large scale and small scale fertilizer production plants. Moreover, our machines can be used for making organic pellets and compound pellets. If you need, we can provide you complete production line as well. There are qualified molding machine for organic pellets, you can select for your fertilizer production business.
Advanced Fertilizer pellet machine at factory price in China zhengzhou
Zhengzhou Shunxin Engineering Equipment Co., Ltd. is the leader of fertilisers equipment industry in China. Our factory is located at Longgang development zone, Xingyang county, Zhengzhou city, Henan province in China. Our products are high quality and manufactured with delicate design.
We have professional manufacturing team, and our machines employ advanced technology. Especially, we design the machines according to the customers requirements. At the same time, if you want to get preferential granulation equipment price, it will be wise for you to choose use. Because our products are made by our own granulating machine factory.
We have one-to-one services, providing best and professional service to you. No matter what the questions you have, no matter what machines you want, we will provide you reasonable solutions.