Rotary cooler is a machine for lowering temperature of granulated fertilizer pellets. It is important in both organic fertilizers making process and compound fertilizer production line. With the help of this machine, the dried fertilizer granules will be in a better status for your transporting, storing, packing and selling. Especially, if you do not use this machine in your compound fertilizer making line, the granular compound fertilizer will be wet and even caking. Rotary cooler is a popular machine, which uses forced cooling technology.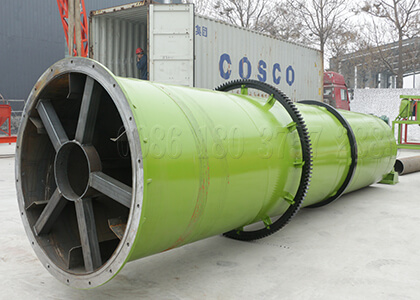 Rotary cooler for sale
Model: SXLQ-0808
Power: 5.5kw
Capacity: 1-2t/h
Rotating Speed: 6(r/min)
Installation Angle: 3°-5°
Why use a rotary cooler in your organic fertilizer production plant?
In an organic fertilizer production line, it is necessary for you to use a rotary cooling machine for processing your pelleted organic fertilizer. It is better for you to equip a dryer machine with it.
Because most organic fertilizer granulation machine utilizes wet granulation technology. The organic fertilizer granular will have high moisture content. It is not convenient for you to transport and store these products. You can use a drying machine for lowering its water content. However, using drying equipment, there will be little droplet on the surface of organic manure pellets. Meanwhile, the dried granules will have high temperature, about 70°C to 80°C. Therefore, it is necessary for you to use a cooler for lowering their temperature. Moreover, it can also take the droplets away.
For example, in your food waste fertilizer production line, because of the wet granulation, the pelleted organic food waste fertilizer granules will have high moisture content. And after the drying, the temperature of food waste fertilizer pellets will be high, and the droplet on the surface makes it not convenient for storing. Thus, you should use a cooler for making it in a better status.
Organic fertilizer pellets cooling machine for sale
Model: SXLQ-1010
Power: 7.5kw
Capacity: 2-4t/h
Rotating Speed: 6(r/min)
Installation Angle: 3°-5°
How does a rotary cooler work for cooling fertilizer pellets?
There is a main motor for driving belt and belt pulley. Through the reducer, it will drive driving shaft for working. Then the bi-parting wheel gears will be engaged with the big wheel gears. And they work in opposite direction, so that the cylinder will rotate.
When you put materials into the feeding port, there is an induced draft fan for supplying cool wind. It will quicken the flowing of air inside the cylinder. Meanwhile, the barriers installed inside the cylinder wall will turn the fertilizer granular to the top. Through this, it can cool your fertilizer pellets well.
Finally, the well processed granules will be out from the discharging port. What's more, it can realize large scale fertilizer production if you feed fertilizer granules continuously. For your information, using this machine for cooling, the fertilizer pellets you get will be at suitable temperature, about 40°C.
Rotating cooling machine for fertilizer granules processing for sale
Model: SXLQ-1515
Power: 11kw
Capacity: 4-6t/h
Rotating Speed: 6(r/min)
Installation Angle: 3°-5°
Attractive features of rotary cooler in organic fertilizer production process
Rotating cooling machine is an important machine for processing granulated fertilizers. While, using rotary drum cooler, you can get many benefits. Meanwhile, we can provide you high-quality drum cooling machines at best price.
It costs you less. A cooling machine is often used with a dryer. We not only provide you rotating fertilizer cooling equipment, but also drying equipment. Especially, our products are at factory prices.
There is no pollution generated when cooling.
You can maintain it conveniently. Our fertilizer cooling equipment uses reasonable structures when manufacturing. It is simple for you to maintain.
It takes you less time and energy for cleaning materials.
The cooling effects is good and it cools your fertilizer pellets evenly.
We use advanced designs and technologies on it for making it work better.