Granulation plant is a set of fertilizer machines for making fertilizer granules. In your fertilizer making company, a set of granulation machine can help you get more market in fertilizer industry. It is convenient for you to turn fertilizer powder into granules. And our granulation lines employ two different technology for pelletizing. You can choose the suitable machines for your preference. Meanwhile, for your different production requirements, we have different equipment configurations. Whether for your large or small scale fertilizer granulating projects, it is available. Moreover, you can get high quality equipment at the best price.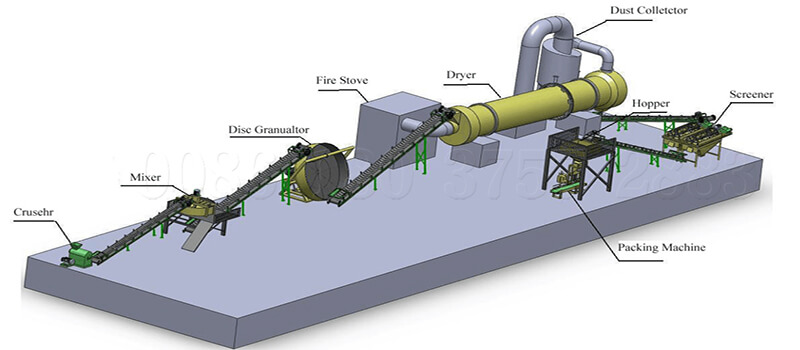 Why start a granulation plant for your fertilizer business?
A fertilizer granulating plant is helpful for processing powdery fertilizers into granules. Making fertilizer pellets brings you more economic efficiency than the powdery fertilizers. Nowadays, the granular manure fertilizer has large market potential. It is time for you to make fertilizer granules. Then do you know what are the advantages of the granular fertilizers?
Equipping with a fertilizer granulation line for your fertilizer business, you can get both powdery fertilizers and granular fertilizers. It is helpful for you to get more customers, who has different preference and requirements.
The granular fertilizers are more convenient for transporting and storing.
It is applicable for you to coat the pelleted fertilizers for more nutrients adding.
The fertilizer granules can provide more nutrients for the crops than the powdery.
Making powdery fertilizers into granules, it will highly reduce the environmental pollution.
The fertilizer pellets have longer quality guarantee period than the powdery fertilizers.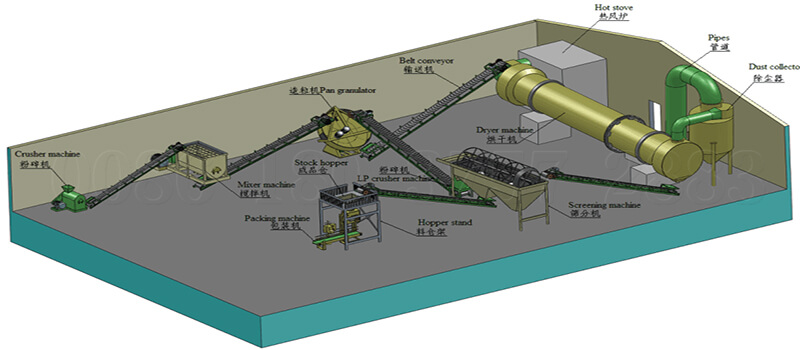 What technologies does our granulation plant use for pelletizing your fertilizer powder?
Because of the difference of powdery fertilizer materials and your different production requirements, we have different granulation equipment for your reference. These two types of granulating machines employ dry and wet granulation technologies. The wet granulation line is more suitable for processing wet materials. You can use the powdery materials, whose moisture content is about 25% and 35%. While, the dry type granules making line can only process the dry powder. You had better make the moisture content under 5%.
How to wet granulate the powdery fertilizers into granules?
Generally, the wet type granulation machines are often used for pelletizing organic fertilizers. There are 3 types of organic fertilizer pelletizing machines for you to choose. The drum fertilizer granulator and pan granulation machine utilize centrifugal force for pelletizing. And you can also add some liquid when granulating.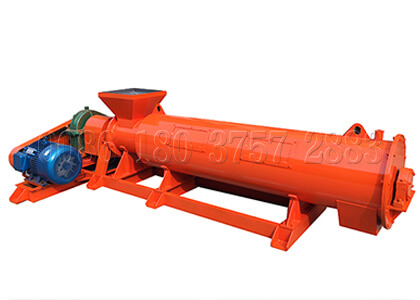 How does dry granulation technology pelletize the dry fertilizers?
The dry fertilizer powder granulation line mainly takes advantages of the extrusion force for pelletizing. It is suitable for pelletizing NPK compound fertilizers. Because the low moisture content of materials, through dry extrusion granulation, you can get well pelletized compound fertilizer granules.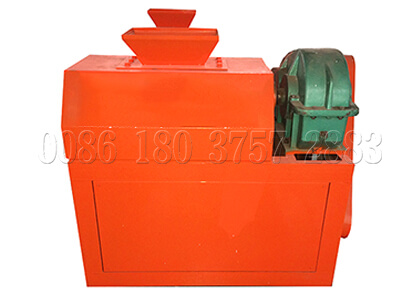 2 efficient fertilizer granulation plant for sale
For establishing a fertilizer granulation plant, there are many equipment configurations for your reference. It is applicable for you to choose a granule making line for organic or compound fertilizer making. Here we will introduce 2 popular and efficient granulation lines.
Organic manure fertilizer granules processing line for sale
This granulation line is suitable for your animal manure fertilizer granules making business. It can meet your different production capacities. Whether for your small or large scale manure fertilizer pellet making, we have suitable machines for you.
For example, if you have large amount of organic animal manure compost fertilizer to process, our wet rotating granulator can pelletize them efficiently. It can process powdery materials 20 ton per hour.
While, for your small scale organic compost granulation, the new fertilizer granulator and disc pan manure fertilizer pelletizing machine are suitable. They can pelletize your organic powdery materials 1 ton per hour.
For making the fertilizer granulation business more efficiency, we also have pelleted fertilizers processing machines. These machines include fertilizer granules drying machine, cooling machine, coating equipment and the fertilizer granules bagging scales.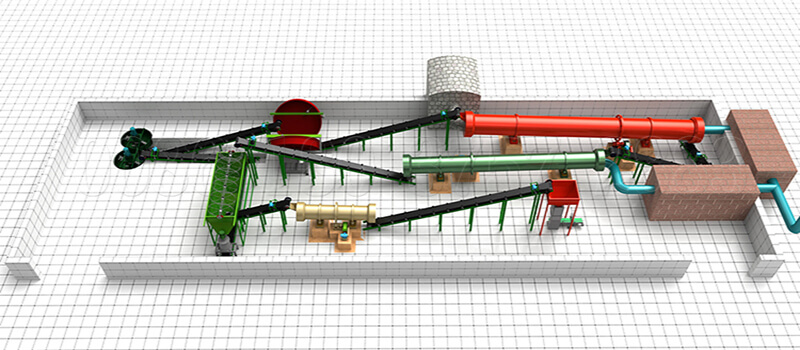 Hot sale equipment for NPK fertilizer dry granulation plant
Granulating dry NPK fertilizer powder, you can choose our advanced dry granulation line. It uses fertilizer roller compactor machine for granulating powder into granules. This machine presses your dry powder into pieces of tablets. And then crushing them into pellets. Compared with the wet granulation line, this dry granulating line reduces the cost and power consumption of fertilizer granules dryer machine. Because of the low moisture content of materials, you do not need to dry the pelleted fertilizers.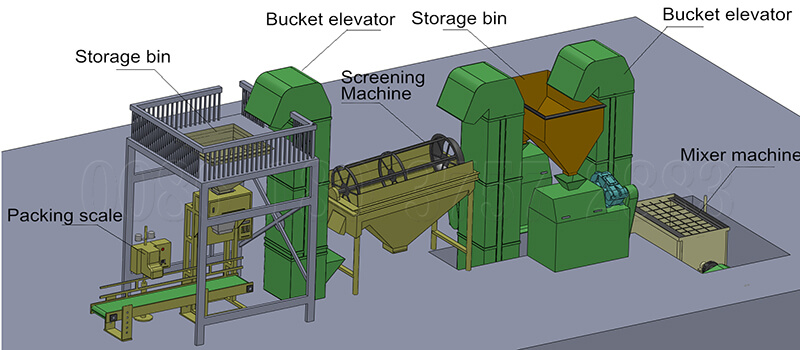 Recommended equipment configurations for small fertilizer granulation plant
Beginning a small scale fertilizer granulation plan, it is essential for you to control the expense and quality of equipment. What's more, you should know which type of granulation machine is suitable for your materials. You had better know the granulation effects of each fertilizer equipment. Here are some recommendations of organic manure granulation equipment for your small plant.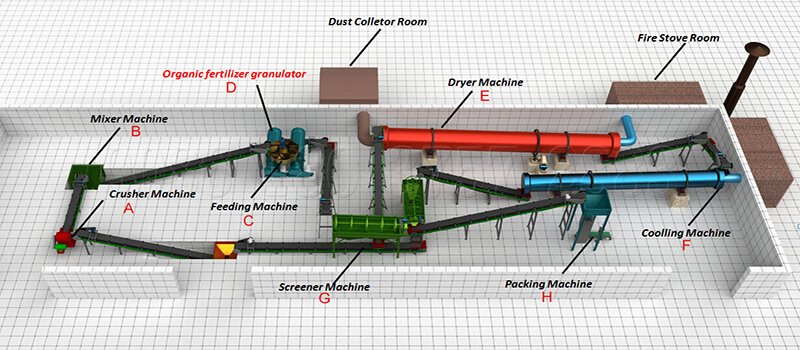 Composted organic manure fertilizer powder pulverizing machine
The fertilizer granulation machines can only process powdery materials. Thus, if your composted organic manure fertilizers are lumped, it is necessary for you to crush the manure compost into fine powders. There are various manure grinders for you to make fine compost fertilizer powders. And then you can put these powders into the granulating equipment.
New patent organic fertilizer granulator
For your small scale organic manure granules making, we recommend you our patent granulator. This granulation machine is dedicatedly designed for organic manure fertilizer granulation. It takes advantages of stirring force and frictional force for pelletizing. Meanwhile, the granular fertilizer made by this machine are harder than it made by drum and pan granulator.
New organic fertilizer granulating equipment granulates the organic manure composts powder
Pelleted manure fertilizer drying and cooling machine
After the granulating, the granules will be wet. It is applicable for you to dry the granulated manure fertilizers by natural air or equipping with a drying machine. Generally, for your fertilizer business, a drying machine will highly improve your production efficiency. For your information, you can also equip with a cooler for lowering the high temperature of dried granules.
Finished fertilizer granules packaging equipment
Packaging is the last step of fertilizer granulation line. There are high-efficient organic fertilizer granules packing scales with different production capacity for your reference.
The lowest cost of organic fertilizer granulation plant installation
There are many types of fertilizer granulation plants for you to choose. They use different equipment configurations for your different requirements. We have our own factory for manufacturing organic fertilizer granules making machines. Thus, our equipment is at factory price. It means that you can get the best price for your own organic fertilizer plant.
For your organic fertilizer granulation requirements, the disk granulation machines will be the most economic choice. It costs less than the new granulator and rotary drum fertilizer pelletizers. Meanwhile, there are no-bucket fertilizer bagging machine at economic price.
Besides, according to your different production capacity and budget, we have professional engineer for designing your own plan. You can get the most suitable set of granulation machines.