Fertilizer production line is the combination of different fertilizer equipment which has different functions. Tongda has various fertilizer production lines, including organic fertilizer production line, complex fertilizer production line and bulk blending fertilizers production line. Especially, there are both powdery organic fertilizer making line and organic fertilizer granules producing line for your reference.
Besides, if you want to know how you can produce the compound fertilizer or organic fertilizer, we have complete fertilizer equipment for different types of fertilizer manufacturing processes. Different production process needs different equipment. Considering different budget and manufacturing requirements of our precious customers, Tongda provides various configurations of fertilizer equipment so that you can choose a suitable set of fertilizer facilities for your fertilizer manufacturing process.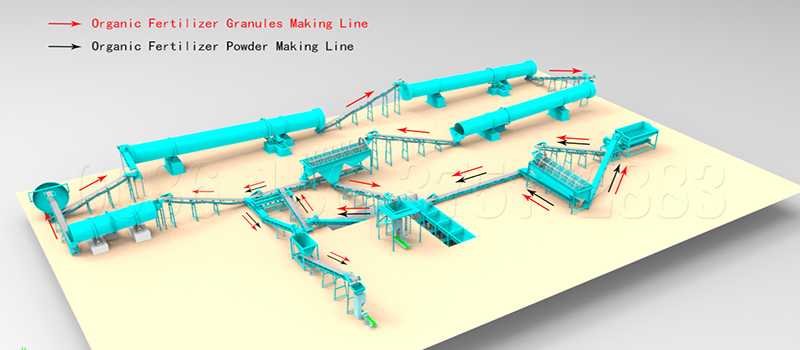 What's the fertilizer manufacturing process?
Making raw materials into available fertilizers is a complicated manufacturing process. However, if you have a fertilizer production line, it will be easier for your fertilizer processing. Here you can know the complete fertilizer manufacturing process for establishing your fertilizer plant.
In the fertilizer making process, the fertilizer machines make it more efficient and convenient. Meanwhile, the finished products will have good appearances and high fertility. All the fertilizer making machines form complete fertilizer production lines.
Tongda fertilizer production line solutions for the fertilizer making process
Different fertilizer manufacturing process for organic fertilizer making and compound fertilizer producing
Manufacturing organic fertilizer is different from compound fertilizer production. Tongda provides you whole process and machines for making your organic animal waste into available organic fertilizers. While, if you want to manufacture compound fertilizers, Tongda machines can help you turn powdery compound fertilizers into fertilizer granules.
The organic fertiliser manufacturing process needs a compost tuner or fermentation tank for aerobic fermentation. And then it's the crushing time. While before you crush the materials of compound fertilizer, you should batch them at a proper proportion.
The next step is mixing crushed powders. When you mix the powdery organic materials, you can add some other elements for improving the fertility, such as the coco peat. While, when you mix the raw materials of compound fertilizer, you can add some anti-blocking agent for avoiding the agglomeration.
Then you can put the evenly mixed powder into the granulator. For making different types of fertilisers, there are different granulators for you to choose. The pan granulator and rotating pelletizer are suitable for making both organic fertilisers and compound fertilizers. The disc pelletizers have less production capacity than drum granulation machine to some extent. As for the new organic fertilizer granulator facility, it is a good machine for making organic fertilizers. And if you want to make complex fertilizer, the roller press machine will be a good choice.
For making the fertilizers be more fertile and convenient for storing and transporting, the drying and cooling are important. However, if you use the double roller extrusion granulation equipment, the granulated compound fertilizer granules can be dried by air.
In sum, this two fertilizer production processes have differences in preparations before crushing. What's more, they add different elements when mixing. Especially, their granulation methods are different. As a rule, the organic fertilizer making uses wet granulation method. While the dry granulation method is more often used in the compound fertilizer production process.
Tongda fertilizer equipment for powdery organic fertilizer manufacturing process and pellet production line
There are both powdery organic fertilizer making line and pellet manufacturing line in Tongda. Without doubt, the powdery production line needs less equipment than the pellet production process. And the powdery fertilizer making process is also the preparation for making fertilizers granules.
Powdery organic fertilizer making equipment
For making powdery organic fertilizer, you should dehydrating the raw materials such as chicken manure, cow dung and so on. And then make a compost with compost turners or using the fermentation tank for fermentation. After the fermentation, it's time for you to pulverize the fermented materials into powders. Next, you can use the vibrating screening machines for sieving. Finally, bag the products with bag filling machine.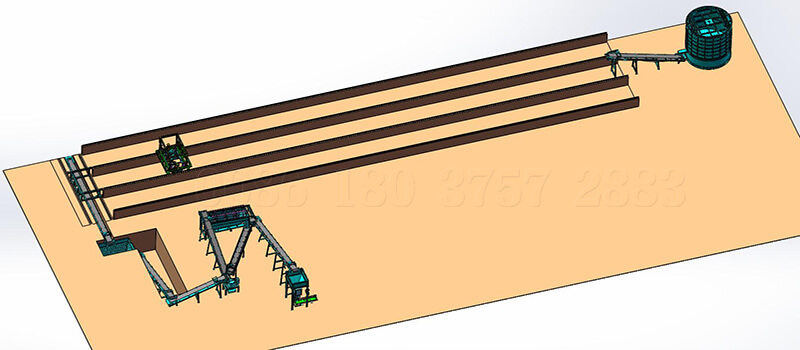 Equipment for organic fertilizer pellet manufacturing process
The organic fertilizer production line is granulating the powdery organic fertilizer into pellets. Thus, it needs the pellet mills, drying and cooling machine, rotating screener, coating equipment and organic fertilizer packaging. The pellet mill is used for making powders into fertilizers, which is the key equipment in the fertilizer granules producing process. The drying, cooling and coating machines can improve the physical state of finished granules. If you want to produce high quality pellets, the screening facility can help you select the unqualified pellets out.
What is the bulk blending fertilizer manufacturing process?
Bulk blending fertilizer production process is special and simple. Different from the organic fertilizer and complex fertilizer production lines, the bulk blending fertilizer making line only needs three equipment. To some extent, it is a little similar to the complex fertilisers producing. They all need the batching facilities for batching in a certain proportion. However, the bulk blending fertilizer production line doesn't need to crush materials into powders. Thus, you don't need to equip with the crusher, granulator, screening machines and so on. What you need is a fertilizer blender. Tongda has high efficient BB fertilizer blending equipment. This machine is the most important equipment in the bulk blending fertiliser process. After you mix them evenly, the packing scales can help you weigh the products and bag them conveniently.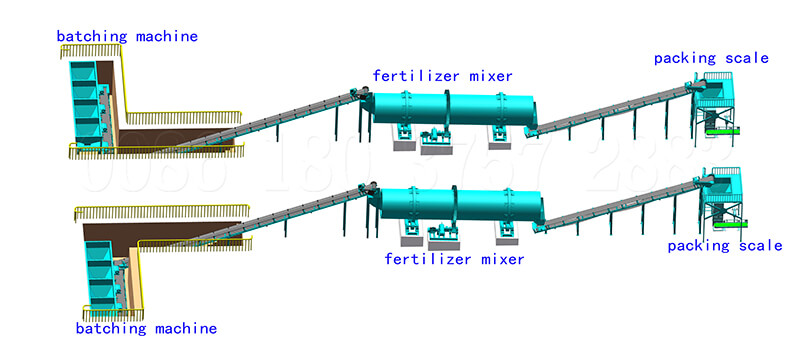 What kind of fertilizer equipment is necessary in the fertilizer making process?
There are many fertilizer production equipment in Tongda, whether the complete fertilizer production line or the single fertilizer equipment. According to your different fertilizer manufacturing process requirements, you can choose different configurations for your plants.
Equipment for complete fertilizer manufacturing process
For a complete organic fertilizer production, the compost process and granulating are important. Before your composting, a dehydrating machine is helpful for you to make composts. Tongda has compost turner machine for you to compost well. While, the materials for granulation should be powders. It will be better if you have pulverizing machine and mixing machine. After the granulation, you can use drying, cooling and coating machine to make the fertilizer granules more convenient for transporting and storing. Meanwhile, equipping with a screener and packaging facility will save you time on unnecessary process. However, if you want to make complex fertilizer, you should batch the straight fertilizers firstly instead of the compost process. Moreover, you don't need to use the dehydrating facilities as well.
Middle configurations of fertilizer making equipment
If you do not have enough money for equipping the whole fertilizer equipment, you don't have to equip with the dehydrating machine, fermentation facilities and the coating machine. It is also applicable for complex fertilisers processing. But you'd better equip with the batching machine for accurate proportion. Especially, if you use the double roller fertilizer granulator, the drying and cooling facilities are not necessary.
Main facilities you need in the fertilizer production process
If the middle equipment configuration is not necessary for you, there are some main facilities for you to equip. In the organic fertilizer production, the crushing, blending, pelletizing, screening are essential processes. You'd better equip with these machines. In the same way, you'd better buy a batching equipment for your complex fertilizer making.
As for the bulk blending fertilizer processing, mixing is the essential process. Hence, it is important for you to equip with a BB fertilizer blender. If you have any questions or requirements about the equipment, contact us and we are glad to provide suggestions for you.