Double roller granulator is the most special equipment among all the granulating facilities. It is the only one which employs the dry granulation method. As a key machine for compound fertiliser granulation, multifunctional double roller granulator plays an important part in complex fertilizers production line. You can use it to manufacture high, medium and low concentration of special compound fertilizer. If you want to form a small-scale fertilizer production line, it will be a good choice for you. Moreover, we have many other machines for you to equip with double roller fertilizer granulator. And with these machines, you can form a fertilizer production line. You can choose suitable machines including crushing machine, mixing machine, screeners, etc. to realize your fertiliser production demands.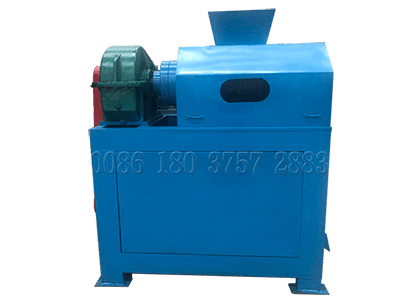 Double roller granulator for sale
Model: SXJZ-1T(can be customized)
Granule Diameter(mm): 3-10
Roller Sheet Size(mm): 150×220
Dimensions(mm): 1450×800×1450
Where you can use the double roller granulator ?
It can make multiple types of fertilizers.
You can produce many different types of compound fertilizers including inorganic fertiliser, biological fertilizer, magnetic fertilizers, etc. Especially you can use it for granulating rare earth, potassium and ammounium carbonate complex fertilizers. It is advanced in China.
It can be used to granulate powder.
Roller press granulator is one of powder granulators among rotary granulating machine, pan granulator and organic fertilizer granulator. Powder may pollute environment and it is difficult to transport and store. By using this double roller press machine, you can granulate powder into pellets which is more convenient to transport and store. What's more, it employs dry granulation method, you don't need to add any binder during granulating.
How does the double roller granulator pelletize fertilizer powders
Double roller granulator for dry granulation
Most granulating machine including new type organic fertilizer granulator machine, rotary granulator and disc pelletizer all adopt wet granulation method. However, this dry type fertilizers granulator machine can granulate powder, and dry powder materials into pellet, without adding binder or water during granulating. Moreover, the finished pellets don't have to dry by drying machine.
Granulating without binder and water.
By using other granulators, you may need to add water or binder for increasing the degree of adhesion, making better pellets. However, roller press machines accept low moisture content raw materials whose moisture content is below 5%, so you don't need to increase the moisture content. And if you have the materials which are not suitable for adding water or binder, this roller granulators will be the ideal choice for you.
Drying-free fertilizer making.
This facility can granulate raw materials at normal temperature. There is a water-cooling device, which avoid the high temperature during granulating. Thus, the finished pellets are easy to be dry and the air drying is applicable. You can have a try on it if you want to reduce your cost, because you don't have to use drying machines.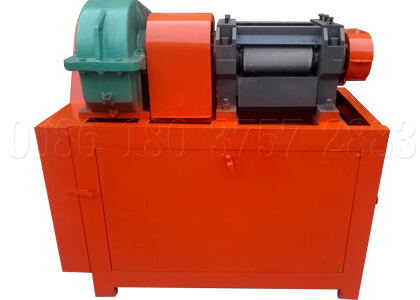 Roller press pelletizer for sale
Model: SXJZ-1.5T(can be customized)
Granule Diameter(mm): 3-10
Roller Sheet Size(mm): 150×300
Dimensions(mm): 1450×850×1500
What benefits you can get from dry type double roller granulator?
You can get low power consumption. The extrusion granulator works at normal temperature and it doesn't need fuels.
You don't need to add binder and equip with drying facilities. In general, vapor granulation is widely used in granulating while the finished pellets must be dried to wipe off the water by drying machine. The fertiliser press machine didn't need these two processes.
It saves your money on the fertilizer making business. Because of its no-drying process, you can reduce the costs of drying machine, binder and fuel. Moreover, the granulation rate is above 90%, and it won't waste your materials.
It has no pollution to environment. It only uses electricity, which won't pollute the environment.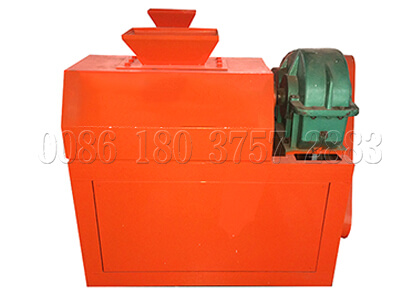 Energy saving extrusion fertilizer granulator for sale
Model: SXJZ-1.5T(can be customized)
Granule Diameter(mm): 3-10
Roller Sheet Size(mm): 150×300
Dimensions(mm): 1450×850×1500
How does double roller granulator play a part in fertilizer production line?
Generally speaking, a complete fertilizers production line needs fertilizer crusher, mixing facilities, fertilizer granulator equipment, screening machines, coating facility and fertiliser packing machine. The double roller extrusion equipment is working for granulating. From the production line flowchart, you can know the work process about roller press granulator.
Prepare suitable raw materials for granulating: Using the crushing machine to pulverize the raw materials between 50 mesh and 100 mesh and then feed them into the feeding machine. Then you can transport the materials into mixer by belt conveyor.
Send the prepared materials into granulator: The roller extrusion granulator machine will granulate materials into oval pellets.
Re-granulate unqualified pellets: The screening machine can screen the qualified pellet and unqualified pellets. You can re-granulate the unqualified pellets again by the roller granulator.
Any fertilizer production line must have granulating machine. The double roller plays the main role in fertilizer production line to granulate material into pellets.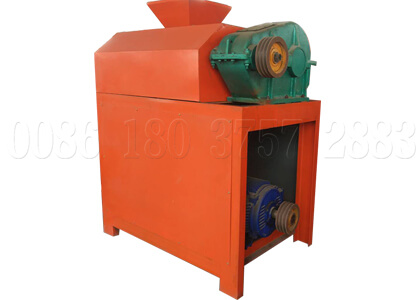 fertilizer compactor roller granulation machine for sale
Model: SXJZ-2T(can be customized)
Granule Diameter(mm): 3-10
Roller Sheet Size(mm): 185×300
Dimensions(mm): 1630×850×1650
How does the double roller granulator granulate pellets?
After you feed raw materials into the granulator, the materials will move to the two roller shafts because of the gravity.
Driven by the motor and reducer, the counter-rotating roller shafts will press the materials with strong power. And the strong extrusion can shape the materials into big plates. There are many grooves on the roller sheet, and grooves shapes decide the pellets shapes.
Through the driving chain, the shaped plates may be send from roller sheet to the crushing room.
The shaped plates will be crushed into oval pellets. And then the finished pellets will get out from the outlet.
Small scale dry roller extrusion granulator compound fertilizer production line: 1 ton per hour
This fertilizer roller compactor SXJZ-1T is suitable for your fertilizer production company, whose production capacity is about 1 ton per hour. If you have some powder, which is not suitable for pelletizing by wet granulation tech, it is applicable for you to use this machine as granulator for forming a production line. Especially, this machine is often be used for making compound fertilizer. What's more, we can also customize for you. If you need to produce pellets with large yeild, we also has SXJZ-3T for your reference, or it is also available for you to equip with more than one roller press granulation machine for production.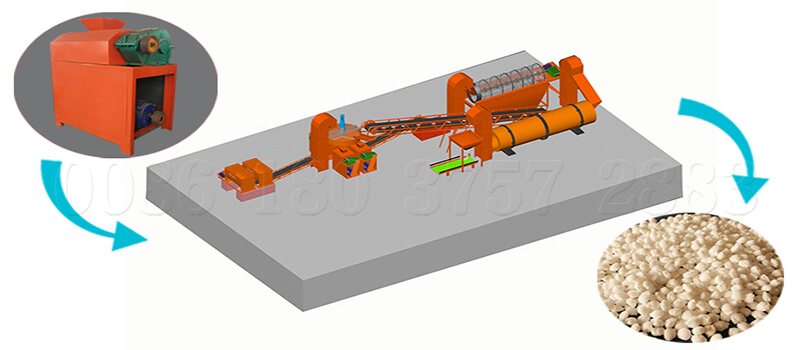 Tips for you to prolong the service life of double roller granulator
All the machines have its service life. Do you want your granulating machine have a long service life? Following these steps, your machine will have a longer service time.
Check the materials to make sure whether there are steels or not before you feed them into granulators. The steel will damage the roll shaft.
Add the gearwheel oil on reducer before you use it. What's more, you should change the gearwheel oil every 4 months.
Use clear city water to cool the gear box, and make sure the cooling pipe is unobstructed. The chocking-off of cooling pipe may heat the lubrication oil, which influences the lubricating of gear box.
If you find some abnormal situations on the noise, vibration or high temperature of gear box, handle them in time. Or there may be some bad consequences.
Change the lubrication oil every year or when you find the lubrication oil goes bad.
Heat the lubrication oil before you start the machine if you are in the low temperature area, or you can use gearwheel oil with low solid point. Doing these could avoid the solidification of lubrication oil, which may cause machine shutdown.
Feed the raw materials uniformly. The roller sheet is easy to be worn, but if you feed materials carefully, the roller sheet can service for a longer time.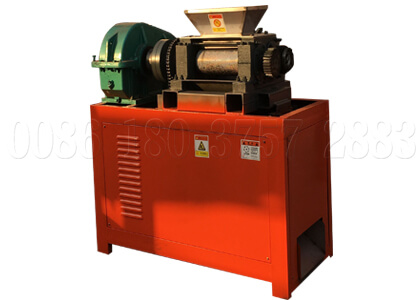 fertilizer granulator for dry powdery granulating
Model: SXJZ-3T(can be customized)
Granule Diameter(mm): 3-10
Roller Sheet Size(mm): 300×300
Dimensions(mm): 1850×1100×2050
How to choose a suitable double roller granulator for your fertilizers business?
Choosing a suitable granulator machine will accelerate the fertilizer production capacity and bring you more economic efficiency. we provide you many specifications of roller granulators, you can choose according to the production capacity you need, the plant area and the total power.
If you have a large scale fertilizer production plant, we have machines which has large output to meet your need. At the same time, if your plant is a small scale plant and can not provide too much area to granulating, you can choose our small scale granulating machine.
What's more, we can customize machines for you. As long as you tell us your needs, we'd like to provide suitable methods for your production requirements. We have professional customer service team to meet your needs.