Nowadays, there are various fertilizers on the market, including complex fertilizers, organic fertilizer, bulk blending fertiliser and some other inorganic fertilizers. However, the bulk blending fertiliser is developing rapidly. There are many countries which produce this fertiliser in large scale. For example, there are 8000 bulk blending fertilizer factories in USA. Bulk blending fertilizer is more and more popular in the agriculture because of its high fertility. There are various formulas for manufacturing it. Before you make bb fertiliser, you can test the soil condition and plants nutrients and then produce fertilizers according to the formula. Furthermore, the nutrients content of compound fertiliser is about 25%. While the BB fertilizer is 52%. The bb fertilisers is manufactured according to the plants requirements and soil condition. Thus, its fertility is good. Especially, it has simple production process. It only needs three machines for forming a bulk blending fertilizer production line. A complete bulk blending fertilisers production line includes batching system, mixing equipment and the bag filling machine. The key equipment is the fertilizer blender, which can blend the materials uniformly. Our fertilizer equipment supplier employs high quality materials on machines. What's more, these facilities adopts advanced design on the structures. Meanwhile, we provides you different configurations for your fertilize making requirements.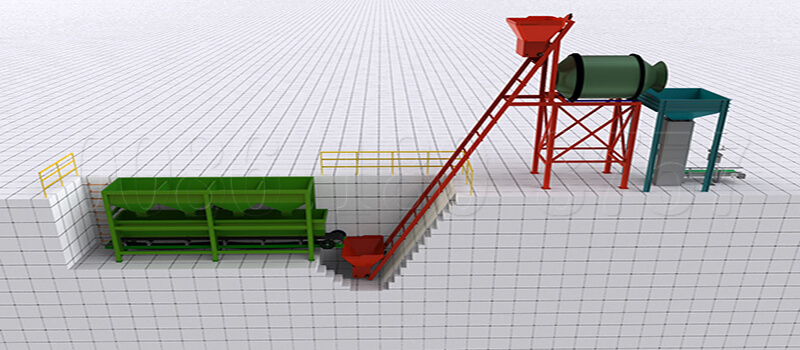 3 simple steps to mass produce bulk blending fertilizers
The bulk blending fertiliser production process is the simplest among all the fertilizer production lines including organic fertiliser production line and compound fertilisers production line. Equipping with fertiliser equipment, you can make it in three steps.
Batch the various fertiliser granular in a certain portion. A batching facility can help you blend the materials in a proper proportion according to the formula. It employs the automatic batching system, which can batch materials accurately as long as you set a suitable value. The dynamic automatic batching machines can meet your needs. Furthermore, it's also applicable for your continuous batching.
Blend them evenly by the BB fertiliser mixers. There are BB fertilisers mixing equipment here for your blending requirements. This mixer can blend the materials granules uniformly and quickly. However, you'd better control the materials in a low moisture content.
Bag the blended products. After the blending, it's time for you to pack the finished products. It's usable for you to use a bb fertiliser packaging scales. This machine will weigh the finished products accurately and the bag-sewing system is convenient for sewing the filled bags.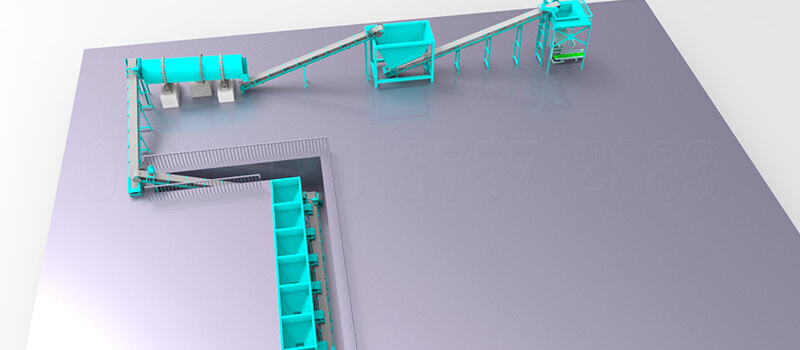 How can you produce high quality mixed fertilizers?
The bb fertilizer mixer is a main equipment in the bulk blending fertilizer production line. It blends and discharges the materials by the special internal screw structure. Moreover, this new designed machine solves the influence on the system, which is caused by the materials features, air pressure, cold weather and so on. It is called the best mixer for bb fertiliser producer.
There are feeding funnel in the machine for you to feed materials. What's more, this feeding funnel can slide from the bottom of machine to the top.
The slide ways are installed on the side of machine. When you feed materials into the feeding funnel, the funnel will slide along the slide ways and discharge materials into the mixing system.
Especially, when it rotates forward, that means it is stirring the materials. If you want to get the materials out, turn it into reversing rotation.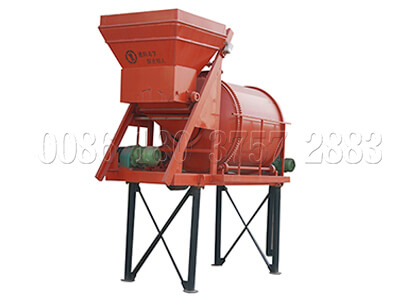 Bulk blending fertilizer mixing equipment For sale
Model: SXBM-1525
Power: 5.5kw
Lift Power: 1.5kw
Capacity: 5-10t/h
Application: mixing pellet fertilizers
How do we configure you complete high-performance facilities for your bulk blending fertilizer production?
Bulk blending fertilizer production line consists of advanced designed facilities. Using this equipment for your fertilizer manufacturing, the producing efficiency will be higher.
The screw blades of the blenders are designed reasonably, which can stir the materials evenly.
These instruments of both batching facility and packaging machines are easy to operate and also have memory functions. Memory functions of the batching facility can storage many formulas. Meanwhile, the packing scale can memory different setting values for weighing.
The bag-sewing equipment can weigh the bagged products again.
Both the batching and the packing are high accuracy. The batching and packing system are controlled by the computer. It will batch automatically only if you set your formula and feed materials into each bin. In the same way, the packing scale can weigh the materials and output into bags automatically. Moreover, their accuracy can reach 0.2%.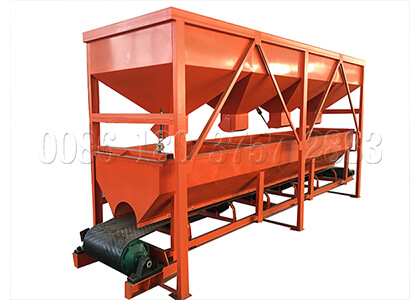 Static automatic batching machine for BB fertilizer making
Model: SXPL-600
Capacity: ≥1.25t/h
Number of Hopper: 4(can be customized)
Color: red
Feature: precise and fully automatic
Excellent features of bulk blending fertilizer production line
Though forming a bb fertilizer production line is simple, whether the production capacity or the products quality, it won't disappoint you.
Its production capacity is high. Generally, its production capacity is 8 ton per hour to 30 ton per hour. If you have other requirements, there are many specifications for you to choose.
It takes a little room for manufacturing. The batching facility is installed under the ground and the whole production line is compact form. Thus, it won't take you too much area.
The finished products have good appearance and fertility. The bb fertilizer blenders blend the materials in the cylinder and transport materials with single bucket. These remain the granules original shape.
It's applicable for you to apply it in whether the cold area or the wet area.
It is fast when you batch and mix the materials so that materials won't have reactions with the air. This avoid materials getting damp.
It adopts PLC on batching, mixing and bagging. This saves your labour consumption, reducing your investment.
The complete equipment use high quality materials for prolonging their service lifetime. Furthermore, they are corrosion-proof.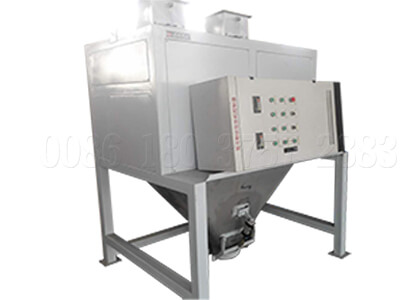 Bulk blending fertilizer packing scale For sale
Model: SXH-A50(can be customized)
Motor Power(kw): 3
Voltage(V): 380
Packing Speed(bag/min): 3-4
Weight(kg): 600
How much will you cost for forming a bulk blending fertilizer production line?
A complete bulk blending fertilizer production line needs batching system, blending equipment and packaging scale. According your different requirements,we can provide you different configurations. The configuration you choose affects the costs. The higher the configuration, the higher the costs. Here we can provide you some suggestions on configurations for your reference.
If you have a large scale fertilizer production business, we recommend you machines with high production capacity. For example, we have rotary blending machine for your large fertilizer production capacity requirements.
If you want to equip with less machines, it's better for you to buy our BB fertiliser mixers. It's the most important equipment in the bb fertiliser making process. What's more, using this single machine, you can blend the materials evenly and efficiently.
Especially, we can provide you tailor-made facilities. Both the production capacity and the configuration depend on your requirements. Moreover, our fertilizer equipment are high quality at factory prices. There has been many bulk blending fertilizer manufacturers who uses our equipment for fertilizer making. If you want to buy a cost-effective fertilisers facilities supplier, we will be a good choice for you.
Have interests on the bulk blending fertilizer granules making line?
Frequently asked Q&A for bulk blending fertilizer making line
Q: How can I control the whole production line?
A Zambian customer
Answer: Our production line is automatically. You can control machines by the controller. There are independent controller system and total control system for you to control the machines conveniently. For the batching machine, there is a PLC controlling system for you to control the fertilizer batching equipment. And you can control the packing machine independently. As for the BB fertilizer mixing machine and belt conveyor, the total control system is helpful.
Ellie Liu
Q: How much area should I have for manufacturing bulk blending fertilizer 20 ton per hour?
A fertilizer manufacturer in Tanzania
Answer: For your 20 ton per hour bulk blending fertilizers production line, you need to equip with batching machine, rotary mixer, packing machine and the belt conveyor. Meanwhile, the stock hopper is also suitable for you to store the mixed fertilizer granules because of the large amount of mixed fertilizers. Generally, you need to prepare 800㎡ or 900㎡ for blending 20 ton fertilizers per hour. While, it is available to customize for you. Whether the diagram, plant design or the fertilizer equipment configurations, we can tailor for you according to your requirements.
Sam Song
How does our fertilizer machine bulk blend your fertilizer granules?